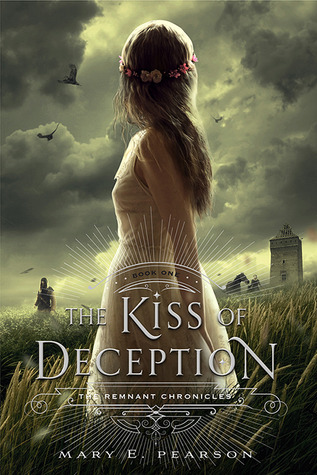 Title/Author:
The Kiss of Deception (The Remnant Chronicles #1) by Mary E. Pearson
Publisher/Date published:
Henry Holt & Company, July 8th 2014
How I got this book:
received it from the publisher through NetGalley
Buy this book at:
The Book Depository
Goodreads summary: In this timeless new trilogy about love and sacrifice, a princess must find her place in a reborn world.

In a society steeped in tradition, Princess Lia's life follows a preordained course. As First Daughter, she is expected to have the revered gift of sight — but she doesn't — and she knows her parents are perpetrating a sham when they arrange her marriage to secure an alliance with a neighboring kingdom — to a prince she has never met.

On the morning of her wedding, Lia flees to a distant village. She settles into a new life, hopeful when two mysterious and handsome strangers arrive — and unaware that one is the jilted prince and the other an assassin sent to kill her. Deception abounds, and Lia finds herself on the brink of unlocking perilous secrets — even as she finds herself falling in love.
So you guys, I just finished it and I LOVED IT! Seriously, I kept thinking about this story even when I wasn't reading and found myself debating whether I should just cancel some social events so I could keep reading it.
I really enjoyed Mary E. Pearson's writing style, she kept me engaged and made me want to know more. The storytelling easily sucked me into this tale of a princess who just wants someone to love her for who she is and isn't scared to work for what she wants, throw in two boys, one of them being the prince and one an assassins sent to kill her and you have one very happy Daisy. There's a lot of things I still want to know about the Remnants and what exactly of all these stories is real and what's not, but I'm counting on there being more of that in the next book.
I loved Lia. I love how she's determined to make a living for herself and how she manages to outwit the trackers sent after her. I love how she's doesn't hesitate to get her hands dirty and how protective she is of Pauline, her friend. She's also fierce and isn't sitting around waiting to be rescued, but tries do rescue herself. And she's also intelligent and compassionate, so yeah, basically, my kind of girl. I'd want her as a friend if I lived in that world.
And then there's the boys. I'm firmly rooting for one of them because he is awesome and I cannot tell you anything else about it, because it will surely spoil the book for you a bit, but let's just say that I adore him and he is amazing. And also: YES SWOONY TIMES! I loved how their relationship grew and it's just a whole lot of yes.
So this is my kind of book, The Kiss of Deception made my fantasy loving heart very happy! This book came into my life when I needed a distraction from some personal stuff going on and it provided just the thing: a story I could get lost in and a heroine to root and cheer for. Add a swoony boy and you've just made me one very happy girl and I cannot wait for the sequel! There are still more secrets left to discover and more adventures to be had with these characters!
My rating: 5 stars