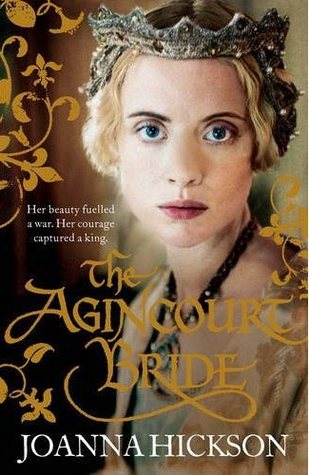 Title/Author:
The Agincourt Bride (Catherine de Valois #1) by Joanna Hickson
Publisher/Date published:
HarperCollins, August 19th 2014
How I got this book:
received it from the publisher as an egalley
Buy this book at:
The Book Depository
Goodreads summary: When her own first child is tragically still-born, the young Mette is pressed into service as a wet-nurse at the court of the mad king, Charles VI of France. Her young charge is the princess, Catherine de Valois, caught up in the turbulence and chaos of life at court.

Mette and the child forge a bond, one that transcends Mette's lowly position.
But as Catherine approaches womanhood, her unique position seals her fate as a pawn between two powerful dynasties. Her brother, The Dauphin and the dark and sinister, Duke of Burgundy will both use Catherine to further the cause of France.

Catherine is powerless to stop them, but with the French defeat at the Battle of Agincourt, the tables turn and suddenly her currency has never been higher. But can Mette protect Catherine from forces at court who seek to harm her or will her loyalty to Catherine place her in even greater danger?
So you guys probably know that I enjoy reading about historical figures, they come more to life than from the stuff you read in history books and I have a bit of a Tudor obsession, so reading about the mother of the first Tudor king is just the thing for me!
And I enjoyed The Agincourt Bride, just not as much as I would have hoped to. It was ok, but it wasn't exciting, I wasn't scared for Catherine or for Mette, even when something really terrible happened to Mette. I was disgusted, but I never doubted that either of them would be ok and not only in the sense that they wouldn't die, but also mentally ok.
I did like Mette, she's thrust into the royal household just hours after she's lost her own child and manages to get through this without basically any support, I know that it probably happened more often back then, but it still feels barbaric to just expect a woman to get over it immediately and get to work. But Mette is a smart, sensible and strong person and somehow she manages. Probably also because she has baby Catherine to care for.
Catherine is sweet and loyal and has a quick mind, all things I appreciate. Sometimes I wondered if she was a bit too good to be true, but those moments passed. It's such a contradiction how she has power as a princess and at the same time really doesn't have much say in what happens in her life. I liked seeing the interactions between her and King Henry towards the end of the book, they had really sweet moments.
I think most of the excitement is probably still coming in the sequel, The Tudor Bride. There are some awful and wonderful things that history tells me are still in store for Catherine and I wonder how Mette will play her part in them.
The Agincourt Bride was an ok read but not one of my favourites so far, maybe The Tudor Bride will be.
My rating:
3 stars