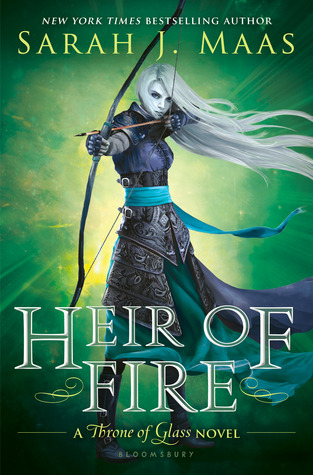 Title/Author:
Heir of Fire (Throne of Glass #3) by Sarah J. Maas
Publisher/Date published:
Bloomsbury USA Childrens, September 2nd 2014
How I got this book:
bought it because how could I not??
Buy this book at:
The Book Depository
Goodreads summary: Lost and broken, Celaena Sardothien's only thought is to avenge the savage death of her dearest friend: as the King of Adarlan's Assassin, she is bound to serve this tyrant, but he will pay for what he did. Any hope Celaena has of destroying the king lies in answers to be found in Wendlyn. Sacrificing his future, Chaol, the Captain of the King's Guard, has sent Celaena there to protect her, but her darkest demons lay in that same place. If she can overcome them, she will be Adarlan's biggest threat – and his own toughest enemy.

While Celaena learns of her true destiny, and the eyes of Erilea are on Wendlyn, a brutal and beastly force is preparing to take to the skies. Will Celaena find the strength not only to win her own battles, but to fight a war that could pit her loyalties to her own people against those she has grown to love?
***WARNING: POSSIBLE SPOILERS FOR FIRST TWO BOOKS IN THE SERIES***
Ok, so this will basically be a lot of gushing, I'm giving you fair warning here.
THIS BOOK YOU GUYS! THIS BOOK! It's been a looooong time since I was this excited about a book and EVERYTHING about this book was exciting and ROWAN and just THIS BOOK!
I cannot. My words fail me. I am just hugging this book and petting it and I just want to stare at the ceiling and imagine myself in this world and revel in all the feels that it brought me and just OMG I just cannot do anything productive today basically.
I was waiting for people I was meeting to have lunch when I finished this book, hoping they were late (lucky for me they were) so I could finish the last pages and after finishing I just looked up and realised no one else was experiencing all these feelings and I literally did not know how to go on having light conversation with the girls I was meeting because I just had SO MANY FEELINGS and nobody would understand.
I'm having the worst book hangover in ages and it is GLORIOUS.
But let's talk about the book a bit. It is no secret that I absolutely love this series and Celaena and Chaol and Dorian and just this world and everything that Sarah J. Maas has created, it is amazing. And it has been SO difficult having to wait for Heir of Fire to be released and seeing all those people who were lucky enough to get an ARC and had already experienced Heir of Fire and all it has to offer in terms of awesomeness. But it was worth the wait.
So obviously Celaena is a mess after what happened in Crown of Midnight, and I liked that. I like that she isn't magically ok with things that are horrifying and traumatic and as devastating as a friend being murdered. Nehemia was so important to her and it would have made no sense whatsoever if her death or the events that followed didn't have a major impact on her. But it was heartbreaking to see what it did to her. But I seriously adored Celaena in how she handled it, even if it wasn't always pretty, I felt her pain and she really did grow as a person throughout Heir of Fire and she just has a special place in my heart for het badassness and her vulnerability and just everything. And I loved learning more about her past!
In Heir of Fire Sarah J. Maas explores Celaena's magic and her fae ancestry, which we got a hint of at the end of Crown of Midnight. And I loved that it doesn't come easy to Celaena. She has to really work for it and it costs her and it leads her to a character that I want to talk about very badly.
Rowan. Just. I cannot. You may have seen people on Twitter going all caps because of this man and all I can say is that I'M ONE OF THOSE PEOPLE BECAUSE HE DESERVES IT. I really don't want to give anything away, but I've been eagerly anticipating his arrival on the scene ever since I knew Celaena was going to Wendlyn, in the version of this story on Fictionpress he was called Raonn I think? And I adored him there as well.
Rowan is just everything I could want him to be and FEELINGS and just ALL THE FEELINGS because I really don't have words to express what he does to my heart.
But mostly I just want to hug Heir of Fire some more and rejoice in this glorious book hangover and if you haven't started this series yet WHAT ARE YOU WAITING FOR??? Go forth and fall in love with this world and the characters that Sarah J. Maas has created, like I have.
My rating:
5+ stars