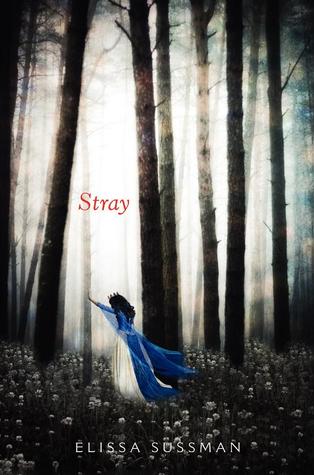 Title/Author:
Stray (Four Sisters #1) by Elissa Sussman
Publisher/Date published:
Greenwillow, October 7th 2014
How I got this book:
received it from the publisher as an egalley
Buy this book at:
The Book Depository
Goodreads summary: "I am grateful for my father, who keeps me good and sweet. I am grateful for my mother, who keeps her own heart guarded and safe. I am grateful for my adviser, who keeps me protected. I am grateful for the Path, which keeps me pure. Ever after."

Princess Aislynn has long dreamed about attending her Introduction Ball, about dancing with the handsome suitors her adviser has chosen for her, about meeting her true love and starting her happily ever after.

When the night of the ball finally arrives and Nerine Academy is awash with roses and royalty, Aislynn wants nothing more than to dance the night away, dutifully following the Path that has been laid out for her. She does not intend to stray.

But try as she might, Aislynn has never quite managed to control the magic that burns within her - magic brought on by wicked, terrible desires that threaten the Path she has vowed to take.

After all, it is wrong to want what you do not need. Isn't it?
I am ever fascinated by fairytale retellings or twists on fairytales or fairytale like stories so OBVIOUSLY I was excited when I read the summary for Stray. It also reminded me a bit of The Fairy Godmother by Mercedes Lackey, which was AWESOME, so I was thinking good things going in.
And I definitely enjoyed Stray! The world that Elissa Sussman has created is so interesting! I'm still a bit reeling from all the things the people there conformed to, I mean, girls are trained just so they can go to a ball and catch a husband, and before a year has passed since they're coming out, cause else they're OLD and will be redirected. I mean, WTF? Obviously, I should have been a fairy godmother already, as I'm clearly not married yet. I have also never been to a real ball, but that's beside the point. But to each society its own rules, right?
So after raging at this and yelling at the women to start roaring because what the hell?? I got over it and started getting into the story. Cause it's actually pretty entertaining! Aislynn, while conforming a bit too much for my liking, at least in the beginning, was a very likable character. She's smart and she's got a sense of humour and she genuinely comes to care for her charge. I don't think I would have accepted being redirected as easily as she did, and with evil headmistresses being a nuisance and everything.
Towards the end things got REALLY interesting and I could fully support the romance that was blooming and just a whole lot of YES and now I'm really wishing I had the next book already, because I need to know what happens next!! There are so many questions I still have. What exactly is up with the evil queen? So I hope we'll get some answers in the next book, but Stray was a very promising start to this series!
My rating: 4,5 stars