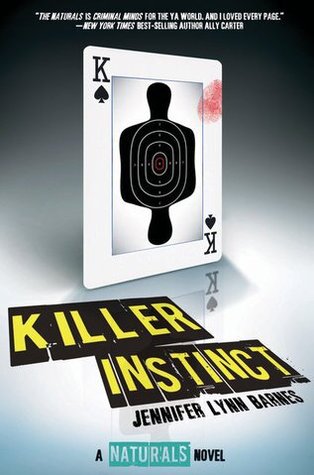 Title/Author:
Killer Instinct (The Naturals #2) by Jennifer Lynn Barnes
Publisher/Date published:
Disney-Hyperion, November 4th 2014
How I got this book:
received it from the publisher as an egalley
Buy this book at:
The Book Depository
Goodreads summary: Seventeen-year-old Cassie Hobbes has a gift for profiling people. Her talent has landed her a spot in an elite FBI program for teens with innate crime-solving abilities, and into some harrowing situations. After barely escaping a confrontation with an unbalanced killer obsessed with her mother's murder, Cassie hopes she and the rest of the team can stick to solving cold cases from a distance.

But when victims of a brutal new serial killer start turning up, the Naturals are pulled into an active case that strikes too close to home: the killer is a perfect copycat of Dean's incarcerated father — a man he'd do anything to forget. Forced deeper into a murderer's psyche than ever before, will the Naturals be able to outsmart the enigmatic killer's brutal mind games before this copycat twists them into his web for good?
***WARNING: POSSIBLE SPOILER FOR FIRST BOOK IN THE SERIES***
Guys, I absolutely loved The Naturals, the first book in this series and obviously I was excited to read Killer instinct. And I was right to expect awesomeness again!
I cannot help but love Cassie, she's smart, she's loyal to her friends and she just wants to help people. The crazy stuff that went down in The Naturals definitely has its effect on her, but she's not letting it get her down and I respect that. Though I couldn't help but feel there should have maybe been a little bit more about the effects of it and I felt like it wasn't really being handled by adults. They didn't really seem to be all that worried about it. But other than that I was so with her in her insecurities about the boys and her initial dislike of the newest adult addition to the team and basically I just love her for her mind. It's SO creepy what she can do, yet so incredibly awesome. I really don't wish that I could do that, but following her thought process is very cool.
And the plot Jennifer Lynn Barnes crafts is just genius! I mean, I saw one tiny detail of it coming, but mostly mind = blown. There's so much more to all of it than you think at first sight and I loved being thrown for a loop a couple of times. It kept me on the edge of my seat, wanting to know what the heck was going on! I read this book while we were on holiday in Rome and I even found myself thinking about it while we were visiting all these beautiful sights in the city, so that's definitely saying something!
One thing I'm going to address as well: the love triangle. There is one. And I really didn't mind it. It's very well done and let's just say that I'm happy with Cassie's choice.
I loved reconnecting with the whole set of characters, minus one for obvious reasons, and learning more about them, I love the whole group, faults and all.
Don't let Jennifer Lynn Barnes' innocent looks fool you, she has a devious mind! I totally loved all the twists and turns and just how real it felt and how I believed in what was happening and was sucked into the story and FEELS and just a whole lot of yes! You should definitely read this series, it's smart and has some amazing well-rounded characters. And just do it, ok?
My rating: 5 stars
Zoë stamp of approval:
(Just look at that smile :) tiny cat is tiny)