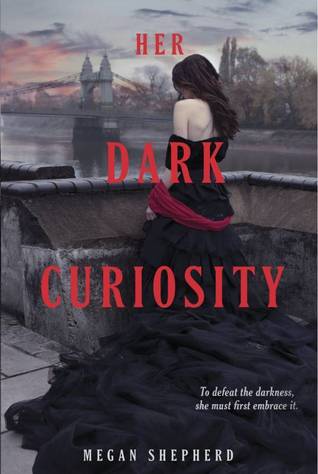 Title/Author:
Her Dark Curiosity (The Madman's Daughter #2) by Megan Shepherd
Publisher/Date published:
Balzer + Bray, January 28th 2014
How I got this book:
received it from the publisher as an egalley
Buy this book at:
The Book Depository
Goodreads summary: To defeat the darkness, she must first embrace it.

Months have passed since Juliet Moreau returned to civilization after escaping her father's island — and the secrets she left behind. Now, back in London once more, she is rebuilding the life she once knew and trying to forget Dr. Moreau's horrific legacy — though someone, or something, hasn't forgotten her.

As people close to Juliet fall victim one by one to a murderer who leaves a macabre calling card of three clawlike slashes, Juliet fears one of her father's creations may have also escaped the island. She is determined to find the killer before Scotland Yard does, though it means awakening sides of herself she had thought long banished, and facing loves from her past she never expected to see again.

As Juliet strives to stop a killer while searching for a serum to cure her own worsening illness, she finds herself once more in the midst of a world of scandal and danger. Her heart torn in two, past bubbling to the surface, life threatened by an obsessive killer — Juliet will be lucky to escape alive.

With inspiration from Robert Louis Stevenson's The Strange Case of Dr. Jekyll and Mr. Hyde, this is a tantalizing mystery about the hidden natures of those we love and how far we'll go to save them from themselves.
***WARNING: POSSIBLE SPOILERS FOR FIRST BOOK IN THE SERIES***
So, I remember really liking The Madman's Daughter, it was creepy and unique and I loved how there was something off with all the characters. So I was expecting a similar experience with Her Dark Curiosity. I'm sad to say that I didn't really get that.
So Juliet is back in London and obviously both boys turn up at some point, because hello love triangle, you are back too. I felt that Juliet was a little too woe-is-me in Her Dark Curiosity and not really the strong girl I'd gotten to know in A Madman's Daughter. And she really wasn't appreciating the things she had in her life that were really good. I mean, the professor who took her in seemed wonderful and I know she's not like other girls and she doesn't really fit in with society, but just, I don't know, I was just unhappy with her attitude.
The creep-factor was definitely back, as Edward is back as well and his dual personality, the Beast and the boy, is WAY eerie. Also, the whole setting is gloomy, and it's probably also due to my need for fluff and fun reads lately, but it was kinda depressing. I had to push myself to read on and it's really not bad writing, but it just didn't get me excited like The Madman's Daughter did. It could also be that I wasn't a fan of Juliet's choices regarding her love life. I mean, I was going NO WTF ARE YOU DOING??? at one point, which is never a good thing.
But that I even cared enough to yell at her in my head, does mean that I cared. I did care. I do. These characters have wormed their way into my heart and the ending left me like WHOA. Towards the end, I started recognizing Juliet as the girl I'd met in The Madman's Daughter and that's when things picked up and got REALLY CREEPY and also HORRIBLE, but it was way more interesting.
I guess I'm just a little bit disappointed that I didn't like it more, but the ending saved it in a very disturbing way. It was sort of a weird point to end a book though. But I'll pick up A Cold Legacy soon, cause I do need closure.
My rating:
3 stars