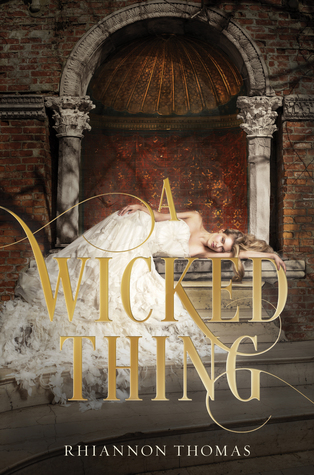 Title/Author:
A Wicked Thing (A Wicked Thing #1) by Rhiannon Thomas
Publisher/Date published:
HarperTeen, February 24th 2015
How I got this book:
received it from the publisher as an egalley
Buy this book at:
The Book Depository
Goodreads summary: One hundred years after falling asleep, Princess Aurora wakes up to the kiss of a handsome prince and a broken kingdom that has been dreaming of her return. All the books say that she should be living happily ever after. But as Aurora understands all too well, the truth is nothing like the fairy tale.

Her family is long dead. Her "true love" is a kind stranger. And her whole life has been planned out by political foes while she slept.

As Aurora struggles to make sense of her new world, she begins to fear that the curse has left its mark on her, a fiery and dangerous thing that might be as wicked as the witch who once ensnared her. With her wedding day drawing near, Aurora must make the ultimate decision on how to save her kingdom: marry the prince or run.
A Wicked Thing was one of my most anticipated debuts of 2015 and I'm sad to say that for me it didn't live up to all these expectations.
I LOVE fairytales and fairytale retellings and actually seeing what Sleeping Beauty would do after being woken up by a prince who's supposed to be her 'true love', but in fact is a stranger and OMG how did I not think about this as a kid? I mean, it sounds romantic and all, but WTF, how is it true love if they haven't even spoken once?? So I was all excited to start it, cause this is right up my alley and the premise is awesome and I was waiting for it to be awesome, but instead it was kinda... boring.
It is entirely possible that I'm not voicing a popular opinion here, but I was slightly bored while reading this. I was intrigued enough to keep going, because I believed it would get better at some point and it wasn't BAD, but it just wasn't what I'd hoped it would be. There is something about Rhiannon Thomas' writing that made me stick with A Wicked Thing, but as I'm looking back at the plot and what exactly happened, I'm justnot that impressed. It was a whole lot of Aurora sitting around, feeling sorry for herself and not doing anything about it. I mean, up until the end, it seems like she's waiting for a knight in shining armor to come save her and that's not my kind of heroine. I get that it's a whole lot to adjust to, waking up 102 years later and your whole family being gone and the world being significantly different from what you remember, I get it. But I had a problem with the lack of personality Aurora was showing.
I didn't really care for any of the 3 (yes 3, I know) love interests either. Well, one of them is slightly interesting. The prince was a bit bland and the guy in the tavern seemed interesting, but that didn't last. I just felt that they and most of the other characters were two-dimensional and from a real fairytale I get that, but from this retelling that should go more in depth about everything, I had expected something better. I mean, someone died and I was like 'eh', while I should have been heartbroken.
But like I said, it wasn't all bad. I am interested in finding out where we go from here, as Aurora finally started showing some spirit at the end. The hint of magic we see in Aurora is intriguing as well and there are probably plots within plots that we haven't seen yet, so I may pick up the next book in this series, but I just didn't love this as I'd hoped I would.
My rating:
2 stars