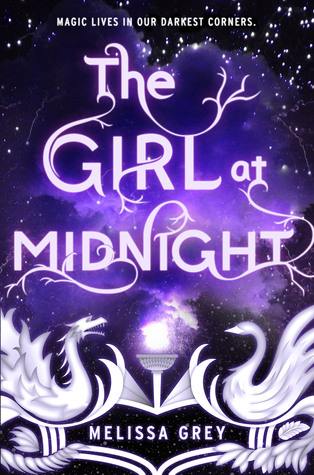 Title/Author:
The Girl At Midnight (The Girl At Midnight #1) by Melissa Grey
Publisher/Date published:
Delacorte Press, April 28th 2015
How I got this book:
received it from the publisher through NetGalley
Buy this book at:
The Book Depository
Goodreads summary: Beneath the streets of New York City live the Avicen, an ancient race of people with feathers for hair and magic running through their veins. Age-old enchantments keep them hidden from humans. All but one. Echo is a runaway pickpocket who survives by selling stolen treasures on the black market, and the Avicen are the only family she's ever known.

Echo is clever and daring, and at times she can be brash, but above all else she's fiercely loyal. So when a centuries-old war crests on the borders of her home, she decides it's time to act.

Legend has it that there is a way to end the conflict once and for all: find the Firebird, a mythical entity believed to possess power the likes of which the world has never seen. It will be no easy task, though if life as a thief has taught Echo anything, it's how to hunt down what she wants... and how to take it.

But some jobs aren't as straightforward as they seem. And this one might just set the world on fire.
So there have been some mixed opinions about this one in the blogosphere and I'll just tell you up front that I fall in the category of people who actually really liked it. But I also have to admit that I haven't read Daughter of Smoke and Bone yet *hides*, the book everyone is comparing it to and saying that DOSAB was better. I have no comparison, but I did very much enjoy The Girl At Midnight!
I really liked Echo, I mean, she has the snark that makes me smile, makes Lord of the Rings references and is generally a bookworm and a very talented thief. I'm pretty much in. And she has a soft spot for pretty boys, which I can understand as she's a 17-year-old girl and most 17-year-old girls like pretty boys (except for the ones who like pretty girls, but you get my point). I mean, sure, she's a bit distracted at times by said pretty boys, but I can't in all honesty say that I wouldn't be. Also: lots of awesome problemsolving and kicking ass.
You may have heard about the love triangle. That wasn't my favourite thing either. I mean, right from the start we know that Echo has a boyfriend, Rowan, and I thought they had a solid basis for a romance, having been friends since they were 7. And they genuinely seem to care about each other, so I was actually a bit surprised when Echo started having feelings for the next pretty face that came along, Caius. I mean, Caius is awesome, don't get me wrong, but I felt the whole way it was set up was pretty unfair to Rowan, who doesn't get much screen-time and also doesn't really get a "I'm sorry, it's not you, it's me" speech before Echo starts something with Caius.
I did very much enjoy everything else about The Girl at Midnight though. I loved Melissa Grey's storytelling and the Avicen and the Drakhari and the whole thing around the Firebird! And OMG, how much did I love Dorian and Jasper and YES I SHIP IT OK? Jasper has a whole lot of funny of his own and a lot of heart underneath the snark. I also really liked the friendship between Ivy and Echo, which seemed a true friendship and not just there so there'd be the obligated female friendship thing.
I constantly found myself wanting to pick up The Girl at Midnight while I was doing other things and wanting to know what would happen next and that to me is the sign of a good book :) Can't wait for the sequel!
My rating:
4,5 stars