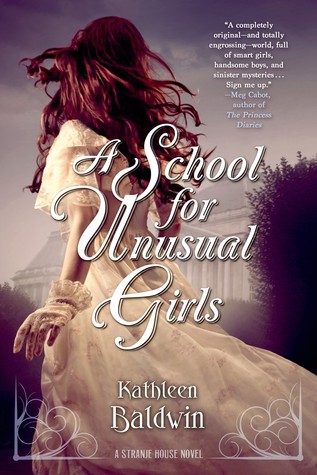 Title/Author:
A School for Unusual Girls (Stranje House #1) by Kathleen Baldwin
Publisher/Date published:
Tor Teen, May 19th 2015
How I got this book:
received it from the publisher through NetGalley
Buy this book at:
The Book Depository
Goodreads summary: It's 1814. Napoleon is exiled on Elba. Europe is in shambles. Britain is at war on four fronts. And Stranje House, a School for Unusual Girls, has become one of Regency England's dark little secrets. The daughters of the beau monde who don't fit high society's constrictive mold are banished to Stranje House to be reformed into marriageable young ladies. Or so their parents think. In truth, Headmistress Emma Stranje, the original unusual girl, has plans for the young ladies — plans that entangle the girls in the dangerous world of spies, diplomacy, and war.

After accidentally setting her father's stables on fire while performing a scientific experiment, Miss Georgiana Fitzwilliam is sent to Stranje House. But Georgie has no intention of being turned into a simpering, pudding-headed, marriageable miss. She plans to escape as soon as possible — until she meets Lord Sebastian Wyatt. Thrust together in a desperate mission to invent a new invisible ink for the English war effort, Georgie and Sebastian must find a way to work together without losing their heads — or their hearts...
You probably all know that I have a thing for historical fiction/historical romance. And basically the title of this book sold me, I mean, what's not to like about a school for unusual girls??
I really liked Georgiana, she's a character that I could definitely relate to, not interested in conforming to society's expectations and a scientist at heart. I love that she can't help herself when she thinks 'what if', it's made her jump out of a window trying to fly and accidentally set her father's stables on fire cause she wasn't allowed to do her expiriment inside the house in a safer environment. She's smart and driven and doesn't take no for an answer, and she also has her vulnerabilities, which made me like her even more.
So Georgiana and I were doing pretty well and then we enter Stranje House and there's a whole extra set of characters for me to be intrigued by. I mean, the other girls there are REALLY interesting, all with their own set of skills, some with a hint of paranormal that I enjoyed. I loved how they're all so fierce and how even though they've been burned before, they're still more than ready to include Georgiana in their group. And also, Miss Stranje herself sounds like the most awesome of ladies and OMG there's a romance brewing there that's just YES.
And of course there's a romance for Georgiana as well. I could very much get behind the ship, because Sebastian sounds dreamy and they do the banter thing that I love and actually share an interest in science. The only thing that didn't work so well for me is the speed at which their relationship progresses to love. I mean, wow, they haven't even really known each other for a week or so? I get that they've been in some situations together that have the potential to speed up things, but they were just a bit shy of insta-love for me. They did have wonderful chemistry though and there was a moment that had me reading with tears in my eyes, so the feelings were there for me.
I wasn't really impressed with the characterization of Georgiana's parents though, they're a bit cardboard and it felt unrealistic that parents would leave their daughter at a house they think she's going to be tortured. I mean, WTF? But as they're not a big part of the novel, I could get over this.
Of course there's also a villain, Lady Daneska, who seems like a complex character, but I'm not really sure what to make of her yet. There's probably a reason why she's so vile, but for now she just seemed to be evil for the sake of being evil mostly.
I did very much like the backdrop of Napoleon's exile and am very interested in seeing where Kathleen Baldwin takes us with her somewhat alternate history. I'm a bit sorry the sequel won't be from Georgiana's POV, but as I really like the other girls as well, I think this won't be a problem, cause I'm really intrigued by Tess!
My rating:
4 stars