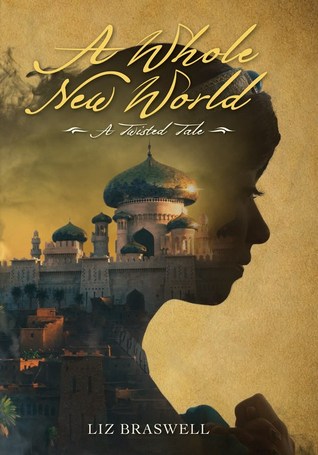 Title/Author:
A Whole New World (Twisted Tales #1) by Liz Braswell
Publisher/Date published:
Disney Press, September 1st 2015
How I got this book:
received it from the publisher through NetGalley
Buy this book at:
The Book Depository
Goodreads summary: Welcome to a new YA series that reimagines classic Disney stories in surprising new ways. Each book asks the question: What if one key moment from a familiar Disney film was changed? This dark and daring version of Aladdin twists the original story with the question: What if Jafar was the first one to summon the Genie?

When Jafar steals the Genie's lamp, he uses his first two wishes to become sultan and the most powerful sorcerer in the world. Agrabah lives in fear, waiting for his third and final wish.To stop the power-mad ruler, Aladdin and the deposed Princess Jasmine must unite the people of Agrabah in rebellion. But soon their fight for freedom threatens to tear the kingdom apart in a costly civil war.

What happens next? A Street Rat becomes a leader. A princess becomes a revolutionary. And readers will never look at the story of Aladdin in the same way again.
I'm BACK! I know it's been almost two months and I'm very much embarassed by that, but after reading A Whole New World, I found that I had something to say again and I decided to just go for it :)
A Whole New World immediately caught my attention, because I LOVE Aladdin! It's one of my favourite Disney movies and I've watched it so many times, I can literally just mute it and still get all the words right, especially for the first part. Which is also why I noticed that the first 20% of this book is basically the same as the movie. Which was not very much appreciated by me. And that's because I was looking for a fresh take on this beloved tale of mine and not have the first 76 pages be something I know by heart, but in book-form. But then the twist comes when Jafar takes the lamp instead of Aladdin and I was like, ok, let's give this another chance. But in the end I didn't really warm up to this twisted tale.
I mean, in the original tale, I love Aladdin's heart and his bravery and resourcefulness and the romance with Yasmine is believable and sweet, but in A Whole New World I was very much not feeling it. While the instant infatuation works in the Disney movie, here it fell flat and Yasmine definitely shows a side of herself that I didn't find pretty at all in A Whole New World and I really couldn't find myself cheering for their lovestory. I mean, even Jafar, who I love to hate in the original tale was not his best villainy self. I mean, he's this big bad sorcerer now, how does he not just kill Aladdin, capture Yasmine and be done with it? Also, I HATED that he destroyed the magic carpet, who is still one of my favourite characters.
But most of all, I'm disappointed by the lack of shininess that was the genie. I mean, you get this sort of charm coming off him, but it's muted and I get that he has less chance to show his magic and humour and all when he's tied to Jafar, but this spark that he has was just missing and I'm kinda disappointed by how things ended for him.
But aside from this, I was just basically a bit bored by the whole story. It never really got exciting for me and the charm and sizzle that I remember from this story was just missing. I felt that the things that were added to make it into this twisted tale were not really interesting or needed to be there. What I'm looking for with all these retelling and twists on classic stories are things that make me go ooh, that's clever and capture the magic of the original thing, but also make it a little something more. And I never got that from A Whole New World, which is a disappointment as I'd really been looking forward to reading it.
I might just go and watch the movie and laugh over the genie's antics now.
My rating:
1,5 stars