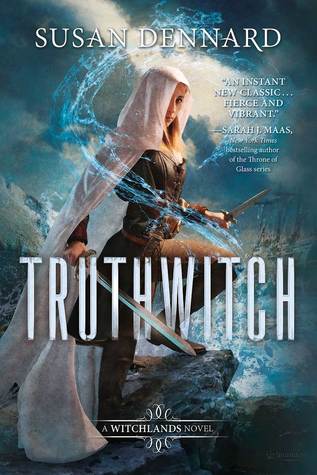 Title/Author:
Truthwitch (The Witchlands #1) by Susan Dennard
Publisher/Date published:
Tor, January 14th 2016
How I got this book:
received it from the publisher through Netgalley, thanks! I also bought a shiny finished copy :)
Goodreads summary: On a continent ruled by three empires, some are born with a "witchery", a magical skill that sets them apart from others.

In the Witchlands, there are almost as many types of magic as there are ways to get in trouble — as two desperate young women know all too well.

Safiya is a Truthwitch, able to discern truth from lie. It's a powerful magic that many would kill to have on their side, especially amongst the nobility to which Safi was born. So Safi must keep her gift hidden, lest she be used as a pawn in the struggle between empires.

Iseult, a Threadwitch, can see the invisible ties that bind and entangle the lives around her — but she cannot see the bonds that touch her own heart. Her unlikely friendship with Safi has taken her from life as an outcast into one of reckless adventure, where she is a cool, wary balance to Safi's hotheaded impulsiveness.

Safi and Iseult just want to be free to live their own lives, but war is coming to the Witchlands. With the help of the cunning Prince Merik (a Windwitch and ship's captain) and the hindrance of a Bloodwitch bent on revenge, the friends must fight emperors, princes, and mercenaries alike, who will stop at nothing to get their hands on a Truthwitch.
Obviously there's a lot of hype surrounding Truthwitch. It's only been on pretty much everyone and their aunt's NEED THIS list for a LONG time and the extreme gorgeousness of the cover is definitely adding to this for me. So I was both very excited and a bit scared to pick this up, because what if I didn't like it??
But I'm glad to say that I did very much like it, though I'm not fangirling all over it like I've seen many people do over the past months. Which would have been awesome, but I'm ok with things as they are now.
I LOVED the frienship between Iseult and Safi, they are true sisters in the best sense of the word and I really feel like they would do anything for each other. And as Susan says in the acknowledgements: 'A friendship can be as epic as a romance'. This friendship is the kind that launches a thousand ships and it is a beautiful thing to see in a book. Especially with a lot of friendships in novels being more like frenemies, which always annoys me.
And as much as I liked the girls together, I also really like them for their own persons. They're both amazing in their own way and I have so many questions about their past! I hope we'll see more of this as the series continues. They are both badass and have a set of skills that awes me, but definitely something that was hard earned instead of just given to them.
I really liked the worldbuilding and the different types of witches are very interesting! I hope we'll get to explore this more, because I'm definitely curious about how everything ties together and what exactly makes a person be a witch and others not so much. And what makes you be a certain type of witch. The thing I'm still a bit confused about though, is why exactly a Truthwitch is so valuable. I mean, I get that it's handy to rulers to have one, you can't be lied to, but it seems that there'd be even more useful skills to have. I mean, basically every country hunting Safi because of this seemed a bit over much.
As much as I loved the friendship between Safi and Iseult, I wasn't really feeling the romance. I mean, it was okay, but I wasn't really shipping it. The part leading up to the kiss was pretty great, but other than that it fell a bit flat for me.
So yes, like most of the blogging world, I really liked Truthwitch and I'm very curious to see what will happen next!
My rating:
4 stars