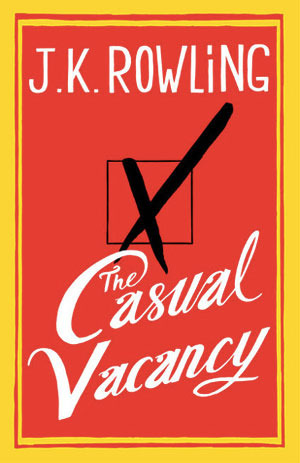 Title/Author:
The Casual Vacancy by J.K. Rowling
Publisher/Date published:
Little, Brown, and Company, September 27th 2012
How I got this book:
bought it
Buy this book at:
The Book Depository
Goodreads summary: When Barry Fairbrother dies in his early forties, the town of Pagford is left in shock.

Pagford is, seemingly, an English idyll, with a cobbled market square and an ancient abbey, but what lies behind the pretty façade is a town at war.

Rich at war with poor, teenagers at war with their parents, wives at war with their husbands, teachers at war with their pupils ... Pagford is not what it first seems.

And the empty seat left by Barry on the parish council soon becomes the catalyst for the biggest war the town has yet seen. Who will triumph in an election fraught with passion, duplicity and unexpected revelations?
So to be honest, I would not have picked up this book if it wasn't for the author's name on the cover. I mean, come on, it's J.K. Rowling, Harry Potter was a huge influence on my life as a teenager and the main reason I decided to start reading books in English instead of my native Dutch, so obviously I put this on the TBR and then put off reading it for the longest time because actually reading it scared the crap out of me.
And now that I have finished it, I sorta want to shout to everyone that I've conquered the beast!
Although, to be fair, it's really not a beast of a book. It's just huge. And very much literary fiction, which is not my usual go-to genre and I can still spot my comfort zone somewhere in the distance, but we're definitely out of it. And it is very much true what everyone has been saying: don't expect an adult Harry Potter, because this is not it. And that's ok. Because J.K. Rowling's writing is a thing of beauty and it shines in The Casual Vacancy as well.
Even though my heart would have been very happy if it had been an adult Harry Potter or any fantasy at all.
But this time, J.K. Rowling invites us into the world of Pagford, a very small town that carries on as small towns do, until there is an unexpected death and because of that, a spot to fill on the town council: a casual vacancy. She then shows us how all of these people live their lives and how the death of this one man affects them, even the ones who didn't much like him or who considered him their enemy. And in this novel, J.K. Rowling perfectly portrays the small town effect that I both love and not love so much, in which everyone knows everyone's business, but then also turns a blind eye to some of the less pretty things going on.
It did seem to take me forever to finish the first half of this book, I got easily distracted and honestly, these people are a bit depressing. They pick petty fights and there's bullying and basically NOBODY is happy and there doesn't really seem to be any hope for this changing anytime soon. But then I sat myself down, told the beastie we'd be doing this together from now on and it worked. And towards the end, I really wanted to keep reading, because it's like a trainwreck, you just can't look away and have to know how it will all turn out!
Like I said, J.K. Rowling's writing is a thing of beauty and she has once again managed to create an intricate world with very much 3D characters, though not really people to root for per se. I kinda still have to get over the fact that there's swearing and sex and all of those things in this novel... So while The Casual Vacancy scared me, I'm glad I read it because while it's brutal and harsh, it also deals with important subjects and I respect J.K. Rowling for writing this novel.
My rating: 4 stars