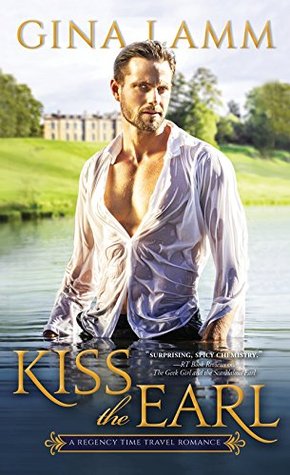 Title/Author:
Kiss the Earl (Geek Girls #3) by Gina Lamm
Publisher/Date published:
Sourcebooks Casablanca, April 7th 2015
How I got this book:
received it from the publisher through NetGalley
Buy this book at:
The Book Depository
Goodreads summary: On the eve of her first comic book release, Ella Briley has a problem: no date to the launch party. Things go from bad to worse when she stumbles into the past... and straight into the arms of her very own Mr. Darcy.

Patrick St. John, Earl of Meadowfair, is too noble for his own good. To save his friend from what is sure to be a loveless marriage, he's agreed to whisk the girl off to wed the man she truly loves. But all goes awry when Patrick mistakes Ella for the would-be bride... and finds this modern girl far too tempting for even the noblest of men to resist.
So after reading The Casual Vacancy, I was really looking forward to reading something cute and fluffy and which would possible bring me lots of feelings. And while I sometimes needed to remind myself to just go with it and not be a non-believer, I totally picked the right book for my mood!
Kiss the Earl was so cute! It was fun and thas an abundance of feelings and I was just rooting for these two! Even if I was a bit confuzzled by the hero's reasoning at one point towards the end, but yeah, men-logic sometimes confuses me in real life as well, so...
I really liked Ella and her carreer as a graphic novel illustrator, that is SO cool! Seriously, I have a lot of respect for people who can bring stories to life and I can't draw to save my life, so Ella seemed pretty awesome to me! Also, I love that she has a non-mainstream job that she has a real passion for. Patrick was a fun character as well, he's loyal and a decent guy, who also manages to land himself in some pretty weird situations because of said loyalty.
And together these two were pretty amazing! They have chemistry that made me smile and swoony moments and misunderstandings that would have been easily fixed, but I didn't care because I was totally feeling it and it was just *sigh* romantic. Also, I loved that he nursed her back to health and was pretty much kicking the 'doctor''s ass for not taking better care of his hygiene. So, SO important! And can I just say that EEP Ella definitely has a realistic fear of getting an infection in this time period? OMG, I cannot imagine not having antibiotics and all the other benefits of today's medicine.
So Kiss the Earl didn't really make me cry, but I did have tears in my eyes and the urge to clutch my scarf because I was so focused on finding out if they would have a happily ever after after all. So basically Kiss the Earl was an adorable read that I was so ready for!
My rating:
4 stars