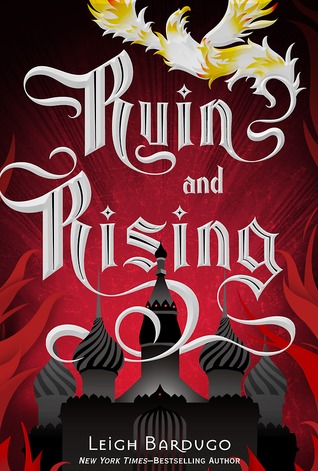 Title/Author:
Ruin and Rising (The Grish #3) by Leigh Bardugo
Publisher/Date published:
Henry Holt and Co, June 17th 2014
How I got this book:
bought it because HOW COULD I NOT??
Buy this book at:
The Book Depository
Goodreads summary: The capital has fallen.

The Darkling rules Ravka from his shadow throne.

Now the nation's fate rests with a broken Sun Summoner, a disgraced tracker, and the shattered remnants of a once-great magical army.

Deep in an ancient network of tunnels and caverns, a weakened Alina must submit to the dubious protection of the Apparat and the zealots who worship her as a Saint. Yet her plans lie elsewhere, with the hunt for the elusive firebird and the hope that an outlaw prince still survives.

Alina will have to forge new alliances and put aside old rivalries as she and Mal race to find the last of Morozova's amplifiers. But as she begins to unravel the Darkling's secrets, she reveals a past that will forever alter her understanding of the bond they share and the power she wields. The firebird is the one thing that stands between Ravka and destruction—and claiming it could cost Alina the very future she's fighting for.
***WARNING: POSSIBLE SPOILERS FOR FIRST TWO BOOKS IN THE SERIES***
So you guys, I have finished Ruin and Rising... And I feel. Empty. And sad and just WHAT DO I DO WITH THE REST OF MY NIGHT and how will I survive not going on new adventures with Alina and Mal and Nikolai aka Sturmhond and even the Darkling???
So this actually says review at the title of this post, but it will probably be more me rambling. Just so you're warned.
It was a special kind of torture being away on vacation while this book was coming out and KNOWING that it had been delivered at my neighbour's house and knowing I'd have to avoid all things even remotely spoilery because I just needed to experience this final book in the series for myself and not have heard anything about it before reading it. And it was GLORIOUS.
I was both dreading this and eager to get my hands on it because you just never know ok? That last book in the series can either make it the most amazing thing you've ever read or just leave you going what just happened to all this promise in the first couple of books??
And I'm very happy to say that I shouldn't have worried so much, because Leigh Bardugo delivered with Ruin and Rising. It was full of high stakes and amazing dialogue and heartbreak and she just ruined me with this book ok?? And I am NOT OK. I want to re-read the whole series and not let go of these characters because I just cannot. I'm not ready to be left here while they go on their off-page adventures and lead out the rest of their lives and I AM NOT A PART OF IT.
I feel very strongly about this book and the series as a whole, if you hadn't noticed before.
Basically, this is me right now:
YES I GIF-ED IT.
Do I actually need to talk about the content other than my feelings? Ok.
There's the Grisha lore that I've come to love over the course of this series and that I'm still itching to learn more about. There's Alina, who although she has come out of her last battle weakened, is stronger than she was before. There's the boy who in my eyes redeems himself, even though I already know that not everyone will agree with me on this. There's the ever charming and clever Sturmhond who stole my heart and who I wished we'd had even more moments with. There's an evil and humanity in the Darkling that were both astonishing to see. There were mindblowing revelations and twists and heartbreaking moments and just, Leigh Bardugo's ruined me ok? I just cannot do anything productive today anymore and I will probably end up hating my next read because Ruin and Rising was JUST THAT GOOD.
Sturmhond is infinitely quotable, but I will leave you with this one that I LOL-ed over:
"Saints, Alina. I hope you weren't looking to me to be the voice of reason. I keep to a strict diet of ill-advised enthusiasm and heartfelt regret."
It might take a while for me to be ok again. I have major series hangover.
Also, jut after I'd finished the book, Ordinary Love by U2 came on the radio and if you've read the ending of the book, you'll know why that was kinda perfect.
But basically what I'm saying is that Ruin and Rising was everything I never even knew I wanted it to be and it was amazing and if you haven't read this series, you should. Because it's awesome.
My rating:
5+ stars