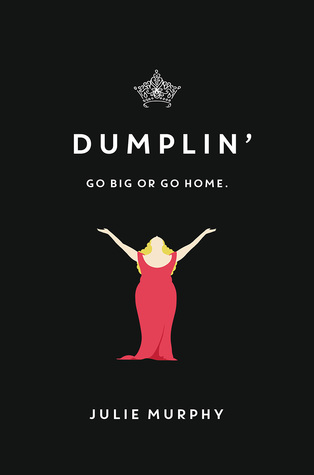 Title/Author:
Dumplin' by Julie Murphy
Publisher/Date published:
Balzer + Bray, September 15th 2015
How I got this book:
received it from the publisher as an egalley
Buy this book at:
The Book Depository
Goodreads summary: Self-proclaimed fat girl Willowdean Dickson (dubbed "Dumplin'" by her former beauty queen mom) has always been at home in her own skin. Her thoughts on having the ultimate bikini body? Put a bikini on your body. With her all-American beauty best friend, Ellen, by her side, things have always worked... until Will takes a job at Harpy's, the local fast-food joint. There she meets Private School Bo, a hot former jock. Will isn't surprised to find herself attracted to Bo. But she is surprised when he seems to like her back.

Instead of finding new heights of self-assurance in her relationship with Bo, Will starts to doubt herself. So she sets out to take back her confidence by doing the most horrifying thing she can imagine: entering the Miss Clover City beauty pageant — along with several other unlikely candidates — to show the world that she deserves to be up there as much as any twiggy girl does. Along the way, she'll shock the hell out of Clover City—and maybe herself most of all.

With starry Texas nights, red candy suckers, Dolly Parton songs, and a wildly unforgettable heroine— Dumplin' is guaranteed to steal your heart.
So there's been a lot of buzz about this book and most of it is well-deserved. I was interested from the moment I saw the part in the summary that says 'Her thoughts on having the ultimate bikini body? Put a bikini on your body.'. I really wish everyone, including myself, would always feel this way.
Like Side Effects May Vary, Julie Murphy doesn't sugarcoat things in Dumplin', there's a lot of ugliness going on when it comes down to high school and people who are different from the norm in how they look. And you know what, it's not ok that some people are made fun of for how they look. It's not ok that people get oinked at if they're overweight or if a guy thinks it's funny to neigh like a horse because you have buckteeth. It's not. But it is reality and a whole lot of people are not going to change anytime soon.
I loved how Willowdean was this confident person, who knows who she is and doesn't take crap from people. And then she goes and shrinks in on herself because of a guy. And I SO got that, but it still made me cringe to see it. And I really hated how she let what other people would think ruin her happiness. I could fully understand how things happened, but holy wow, was she making a big mess of things for herself!
I sorta have mixed feelings about Dumplin', cause on one hand I LOVE how it made me think about everything about body image and how there's this pressure to look good and be thin and while as a doctor I also tell people to lose weight, that is not the most important thing in being healthy. It's also a healthy mind. And your BMI can be too high, but you can still be healthier than someone who wears a size 2. And I can especially relate to the part where Julie Murphy through Willowdean talks about how everyone has their moments in which they don't feel beautiful or inferior to someone else, because we've probably all been that person at one point in life or maybe a little more often.
But there are a couple of things that I didn't like so much, and some of it's due to me not really connecting with Willowdean as a character. The way she treated this one guy made me cringe every time, because to me if felt like she was just using him and while he may not be her crush, he was a sweet, decent guy who didn't deserve this. And I also felt like she was basically using the other unlikely candidates at first, in the end I believe that she's truly their friend, but I didn't feel like this started with the purest of intentions.
And I really had a problem with her relationship with her mom, they're both not giving an inch and it was painful and harsh and nothing really gets resolved in my opinion.
I guess that part of what disappointed me is that it sends a body positive image like The DUFF did, but The DUFF is just so much more amazing in every way and I can't help comparing the two books. I just felt that this could have been something more.
BUT this is not me saying that I didn't enjoy reading Dumplin', because I did like it and it was a quick read for me (though I had zero time to read the last couple of days). I appreciate that it's harsh at times, and that Willowdean does grow as a person over the course of Dumplin', but the spark that would have made me love this book just wasn't there for me.
My rating:
3,5 stars