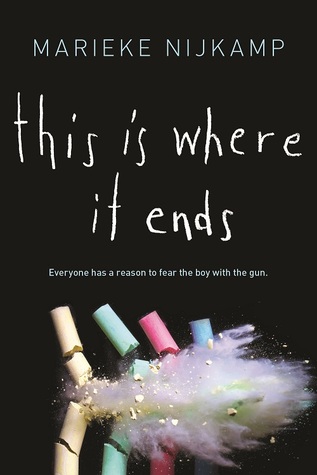 Title/Author:
This Is Where It Ends by Marieke Nijkamp
Publisher/Date published:
Sourcebooks Fire, January 5th 2016
How I got this book:
received it from the publisher through NetGalley,thanks!
Goodreads summary: 10:00 a.m.
The principal of Opportunity, Alabama's high school finishes her speech, welcoming the entire student body to a new semester and encouraging them to excel and achieve.

10:02 a.m.
The students get up to leave the auditorium for their next class.

10:03
The auditorium doors won't open.

10:05
Someone starts shooting.

Told over the span of 54 harrowing minutes from four different perspectives, terror reigns as one student's calculated revenge turns into the ultimate game of survival.
I'm always excited to spotlight another Dutchy, but I basically never get the chance author-wise, so I'm very happy to say that I was impressed with Marieke Nijkamp's debut!
This is obviously a tough subject and it could have easily turned tasteless or a sort of slasher movie turned book, but in my opinion it didn't. Yes, it is harsh, but to me it really felt like this is how it could have happened and I think it shows that Marieke Nijkamp did her research in the subject of school shootings. I cannot even imagine what it must be like to live through something like this and am always horrified when I hear another tragedy has struck a school somewhere in the world. I don't think we've ever had a school shooting in Holland and it does make me question gun laws, but I'm not really looking to get into a political debate on my blog.
We see the events from different POVs and every one of them is terrifying and heartbreaking in their own right. I mean, what makes school shooting even more horrifying for me is that it's not some random person opening fire in a random place, but you actually know this person and he or she has gone to school with you and it might be your friend or part of your family or even someone that you used to date and that is just insanely terrifying. I mean, obviously any and all attacks made on people are awful, but something like this is also personal and that adds that extra layer of nightmare.
I could seriously not stop reading this and it really didn't do me any favours in terms of getting a good night's sleep. I found myself thinking about This is Where It Ends during the day and wanting to find time to read it because I needed to know what happened next because I was just very much invested in these people and the whole school and it was heartbreaking and horrible and all these lives that are destroyed, I still have no words.
I'd recommend reading this when you really have the time to read a chunk of it because you will want to keep reading and for me it really packed a punch.
My rating:
4,5 stars