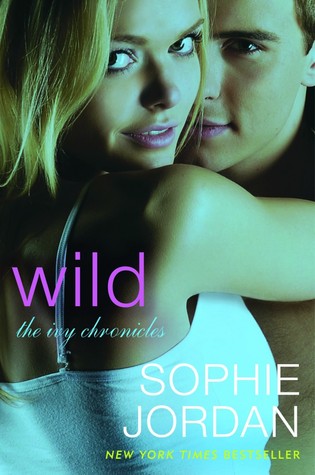 Title/Author:
Wild (The Ivy Chronicles #3) by Sophie Jordan
Publisher/Date published:
Avon, November 18th 2014
How I got this book:
received it from the publisher as an egalley
Buy this book at:
The Book Depository
Goodreads summary: Months after her boyfriend dumped her, Georgia can still hear the insults he hurled at her. Boring. Predictable. Tame. Tired of feeling bad, she's ready to change her image, and go a little wild. What better way to prove her ex wrong than a hot night of sexual adventure at the secret campus kink club?

In the shadowy den of the kink club, she unexpectedly runs into Logan Mulvaney, her friend's little brother. A player extraordinaire too hot for his own good, he may be younger, but the guy is light years ahead when it comes to sexual experience. Now he's telling her to go home — "good girls" don't belong here!

Georgia is tired of having others define her. She's going to teach Logan a lesson he won't forget — one white hot, mind-wrecking kiss... that leads to another... and another... and... Realizing she's way in over her head, Georgia runs.

Only Logan won't let her go. Everywhere she goes he's there, making her want every inch of him. Making her forget who she is. Who he is. And just how wrong they are for each other.
You guys, I rely on Sophie Jordan to bring me the swoons. And she did it again!
I absolutely loved the chemistry between Georgia and Logan and how the fact that he's a little younger and younger brother to one of her friends added a very believable embarassment and drama-inducing factor. I mean, it's not like it's wrong if the girl is older, but you don't see it often, but hey, you fall in love with a person, not their age, right? And also, Logan sounds totally hot and very mature (unlike most 18-year-old boys I know). I was definitely shippping it. Georgia becomes a more daring version of herself when she's around him and I think she turns his world upside down, so I felt like they were affecting each other equally. And I liked it.
Georgia is smart, careful, a little too oppressed by her mother and also a caring person who is afraid to give her heart away, but does it anyway. At one point I was so rooting for her to have it out with her mother and just find out WHY she was so hell bent on getting Georgia and Harris back together, because OMG, that guy is a douche and why would a mother want her daughter to be with a guy who CHEATED on her?? I don't get it. My mom would definitely NOT be encouraging it, especially not if I'd made it clear that I wasn't interested in him anymore. So what gives?
Logan is a beautiful boy. He sounds beyond delicious and just made me swoon with all his maleness and putting it all out there and then getting his heart stomped on and OMG how COULD SHE? I mean, I GET it, sort of, but UGH, poor Logan. I loved that even after all that's been going on in his life since he was a kid, he's still this warm, loving guy who's protective of his friends.
So like I said, the age difference and the fact that he's her friend's brother makes for some stomach-clenchingly good drama and I stayed up till 2 AM to finish it even though I had to get up at 6.30 the following morning. I could literally not sleep before I knew they'd be having a happily ever after and I was swooning all through the end and it was just awesome.
I'd definitely recommend trying Wild for yourself and finding out just why I love Sophie Jordan's writing so much!
My rating:
5 stars
Zoë stamp of approval:
Cuddling the bear like I'd cuddle Logan ;)