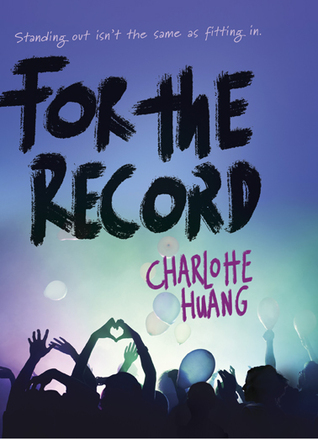 Title/Author:
For the Record by Charlotte Huang
Publisher/Date published:
Delacorte Books for Young Readers, November 10th 2015
How I got this book:
received it from the publisher as an egalley
Goodreads summary: Chelsea thought she knew what being a rock star was like... until she became one. After losing a TV talent show, she slid back into small-town anonymity. But one phone call changed everything

Now she's the lead singer of the band Melbourne, performing in sold-out clubs every night and living on a bus with three gorgeous and talented guys. The bummer is that the band barely tolerates her. And when teen heartthrob Lucas Rivers take an interest in her, Chelsea is suddenly famous, bringing Melbourne to the next level — not that they're happy about that. Her feelings for Beckett, Melbourne's bassist, are making life even more complicated.

Chelsea only has the summer tour to make the band — and their fans — love her. If she doesn't, she'll be back in Michigan for senior year, dying a slow death. The paparazzi, the haters, the grueling schedule... Chelsea believed she could handle it. But what if she can't?
So I am totally in love with shows and books about the music industry and the people in it. Music is such a part of my life and I wish I had the skills to actually make music myself, but the most I can do is sing along (WAY out of tune) while in the car/alone in my home/at clubs. So I was super excited to read For The Record, cause it sounded really cute and just my kind of thing.
The thing is, I did like For the Record, but from the summary I would have thought that there would be more swoons. And it was sadly lacking in swoony moments for me. I mean, I liked Chelsea, I did feel like she could have stood up for herself a bit more while the whole band was being a jerk to her. I mean, wow, I get that they don't like that she's been pushed on them by their label, but that's not really her fault and just GROW UP ok? So it sucks that your last lead singer didn't work out. I felt that they should really just have given Chelsea a fair chance from the start or that they should have told their manager they weren't ok with a label-picked new lead singer and that they wanted to pick one themselves. The problem with their attitude was that I wasn't really feeling any of the guys. I can get where they're coming from, but it's not endearing, and it's also what made me a bit iffy about the feelings Chelsea develops for Beckett (as alluded to in the summary), one of the guys from the band.
While Beckett may not have been the one who was nastiest to Chelsea, he's not really supportive either and so he seems like a nice guy underneath, but I was just over it and needed a whole lot of convincing to start rooting for them. Add in the REALLY bad choice Chelsea makes by hooking up with Lucas Rivers, who is just a little too smooth for my liking and also just an arrogant douche. This does not make for swoony reading for me.
Another problem I had with For the Record is that Chelsea's best friend joins them on tour as the merchandise girl and then breaks one of the rules and after that makes a huge NO-NO that made me question whether she was actually Chelsea's friend. I mean, WOW. I can't imagine doing that to my best friend. Or any of my friends. Or even one of my lesser known acquaintances. That was just crossing the line WAY OVER. The line is not even in sight anymore.
I did like reading about the band being on tour and all of the stuff that goes on behind the scenes. I liked the backstory about Chelsea's hometown and what happened to her with her former boyfriend, though it did make me wonder if EVERY boy she meets has douchebag potential, I mean, there are some good ones out there. I liked the whole insight in to what it's like to live on a bus with the same people for months and getting cabin fever and all that, that was pretty fun. And I liked discovering that there's a whole lot more to the band drama than we get at first sight, I'd sorta guessed some of it, but OMG it was WAY worse!
I just wish that there had been more swoons, cause I was really counting on this to be a cute contemporary with a huge swoonfactor (I mean, how can making music with a guy you like be anything less than romantic??), but it never fully got there for me.
My rating:
2,5 stars