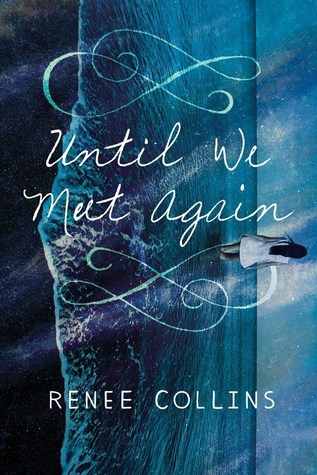 Title/Author:
Until We Meet Again by Renee Collins
Publisher/Date published:
Sourcebooks Fire, November 3rd 2015
How I got this book:
received it from the publisher through NetGalley
Goodreads summary: They exist in two different centuries, but their love defies time

Cassandra craves drama and adventure, so the last thing she wants is to spend her summer marooned with her mother and stepfather in a snooty Massachusetts shore town. But when a dreamy stranger shows up on their private beach claiming it's his own — and that the year is 1925 — she is swept into a mystery a hundred years in the making.

As she searches for answers in the present, Cassandra discovers a truth that puts their growing love — and Lawrence's life — into jeopardy. Desperate to save him, Cassandra must find a way to change history... or risk losing Lawrence forever.
I was SO hoping to love this book, and while I did enjoy it, it wasn't all that I'd wanted it to be.
I'm a sucker for time-travel romance, there's just something about the whole idea of going back in time, I'd LOVE to be able to do that. So I was a little disappointed by the fact that Cassandra and Lawrence really only meet on the beach. I mean, it owuld have been so much more interesting if they'd be able to visit each other's homes and the beach pretty much looks the same 90 years later, so... And somehow I would have thought that there'd be more to work out manner-wise between a girl from 2015 and a guy from 1925. I mean, lots of things about what is appropriate and what's not and manner of speech and everything, but I wasn't feeling that this was really an issue aside from a casual mention of it every now and then.
I liked Cassandra and how she's not immediately like OMG you're so hot, so it's totally cool that you're on this private beach that you should not be anywhere near when she meets Lawrence for the first time. She's suspicious and hesitant and I liked that. I kinda didn't like that she's also being pressured by her mother to date this other guy and she goes along with it. I felt that she was leading him on and it was just not very nice. I also really had a problem with her mother's behaviour, I mean come on, Cassandra does a stupid ass thing at the beginning of the novel, but she's not a bad kid in general and I felt her mother was being too hard on her and pushing her in directions that I didn't really get.
So Lawrence is basically a good guy, but I never really got a very good feel for his character beside that. He says all the right things, but at the beginning of the book he's a bit of a pushover and that's not very attractive. I did like that he writes poetry and that's secretly a career that he wants to be pursuing instead of being a lawyer.
I did like Cassandra and Lawrence together, but I was never really shipping it. And I was having a WTF moment towards the end when Lawrence says that Cassandra is 'the love of his life', I mean, SERIOUSLY??? You're what, 17? And you've known each other for a month? REALLY??? That is just. Wow. I mean, NO. Just NO. I cannot deal with this and it's probably what soured my opinion about the rest of the book because it left a really bad taste in my mouth.
I feel like I'm sounding really negative about Until We Meet Again and it definitely had it's flaws for me, but I did like seeing how Cassandra and Lawrence were trying to figure everything out, though I felt that Cassandra was fighting harder for Lawrence's life than he was himself. There's a whole lot of shenanigans going on and I did not see coming how it would all play out in the end.
So Until We Meet Again was an ok read for me, but I feel that it could have been so much more and the 'love of my life' bit was just not working for me.
My rating:
2 stars