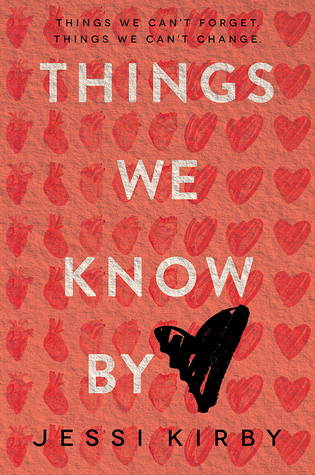 Title/Author:
Things We Know By Heart by Jessi Kirby
Publisher/Date published:
HarperTeen, April 21st 2015
How I got this book:
received it from the publisher as an egalley
Buy this book at:
The Book Depository
Goodreads summary: When Quinn Sullivan meets the recipient of her boyfriend's donated heart, the two form an unexpected connection.

After Quinn loses her boyfriend, Trent, in an accident their junior year, she reaches out to the recipients of his donated organs in hopes of picking up the pieces of her now-unrecognizable life. She hears back from some of them, but the person who received Trent's heart has remained silent. The essence of a person, she has always believed, is in the heart. If she finds Trent's, then maybe she can have peace once and for all.

Risking everything in order to finally lay her memories to rest, Quinn goes outside the system to track down nineteen-year-old Colton Thomas — a guy whose life has been forever changed by this priceless gift. But what starts as an accidental run-in quickly develops into more, sparking an undeniable attraction. She doesn't want to give in to it — especially since he has no idea how they're connected — but their time together has made Quinn feel alive again. No matter how hard she's falling for Colton, each beat of his heart reminds her of all she's lost... and all that remains at stake.
So I'm not really someone who reads books dealing with grief. They scare me. Also, I deal with illness and loss a lot in my line of work, so I tend to avoid it outside of it. But this is Jessi Kirby and I cannot stop raving about Golden, so I desperately needed to read this!
And I thought it was beautiful. Obviously most of us will be able to see the romance coming from MILES away, even from reading the summary, but it is kinda beautiful in that it happens slowly and they first tentatively become friends and then it moves onto something more and I could definitely root for them and while it may be a huge cliché that she falls for the guy who received her boyfriend's heart and all, it was very nicely done and I didn't find myself rolling my eyes at it, which I kinda expected I'd maybe do a little. I didn't totally swoon, but I could get behind this quiet little lovestory. I also could fully understand Colton's anger towards the end, I mean, holy wow, I would have been VERY upset as well.
I really liked both Quinn and Colton and I loved seeing how she's slowly trying to allow herself to be open to the possibility of something new after the devastating loss of her boyfriend. And how she tried to keep her distance from Colton, but couldn't really and the beauty that is her relationship with her family! I loved her sister and her grandmother, they were amazing!
As for her searching for the recipient of Trent's heart, I can sorta understand it, but invading someone's privacy like that is just a big no-no. I mean, wow, that's some serious cyberstalking.
I also liked that Colton wasn't ready to immediately tell Quinn everything, because he doesn't know that she knows, and tries to keep his illness hidden. It seems so much more real teen boy than being totally upfront about his medical history.
One thing I missed from the book was a bit more about Trent and his and Quinn's relationship. I mean, he was SO important to her, I kinda wanted to learn a bit more about him. We only get the tiniest snippest and that was just not very satisfying to me. I get that the book isn't really about him, it deals with the aftermath of losing someone you love and how you cope with that, but I would have liked to know a little more about this boy who was such a big part of Quinn's life.
Things We Know By Heart is probably not a book for everyone, but I thought it was a beautiful story about loss and trying to find closure and allowing yourself to start something new. And I totally love Jessi Kirby's writing, so this was very much a winner for me.
My rating:
4,5 stars