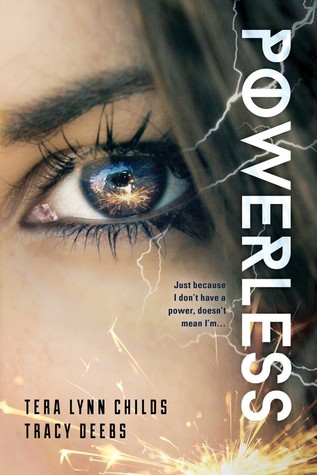 Title/Author:
Powerless (The Hero Agenda #1) by Tera Lynn Childs and Tracy Deebs
Publisher/Date published:
Sourcebooks Fire, June 2nd 2015
How I got this book:
received it from the publisher through NetGalley
Goodreads summary: Kenna is tired of being "normal". The only thing special about her is that she isn't special at all. Which is frustrating in a world of absolutes. Villains, like the one who killed her father, are bad. Heroes, like her mother and best friend, are good. And Kenna, unlike everyone else around her, is completely ordinary— which she hates.

She's secretly working on an experiment that will land her a place among the Heroes, but when a Villain saves her life during a break-in at her lab, Kenna discovers there's a whole lot of gray area when it comes to good and evil and who she can trust.. After all…not all strength comes from superpowers.
I personally really enjoyed Powerless, as it's another take on the superhero lore and that's always exciting to me :)
For this blog tour to celebrate the release of POWERLESS everyone is answering the question: "If I could have any superpower…" and below you'll find their very interesting answers!
Tracy Deebs, POWERLESS co-author
If I could have any superpower in the world, I would be a technopath. Anyone who knows me knows how absurd it is to imagine me as one—and just how grateful I would be if I had that power. I'm one of those people who actually repel technology. I can almost never get those soap dispensers or faucets that turn on when you wave your hands to work in the bathroom, my computers, smartphone, and tablet always do the most bizarre things imaginable, wherever I am technological things stop working, and I have the power to demagnetize hotel room keys (and my college cafeteria card) just by touching them. So, yes, being a technopath sounds pretty awesome to me …
Tera Lynn Childs, POWERLESS co-author
If I could have any superpower, I'd pick the ability to control the weather. First, I'd head to California and bring on a monsoon season of non-stop rain to end the mega-drought. Then I'd come home to Vegas and do a little tinkering with the seasons. Keep it under 100 in the summer, stay away from the below-freezing temps no one believes we actually get in the winter, and make sure that spring and fall are full of as many thunderstorms as possible. The more thunder, lightning, and rain, the better!
Learn more about Tera and Tracy at www.HeroAgenda.com.
***
Leah Scheier, author of YOUR VOICE IS ALL I HEAR, describes her superhero alter-ego:
I am Celebrita and my super-power is the ability to morph into any celebrity. Naturally, I only use my powers for good. I'm not in it for the free Versace gowns, the private jets and the red carpet struts. Instead, I make myself available to the hardworking celebrity who can't handle getting up in the morning for an early shoot due to a rough night of partying. Sleep in, dear celebrity. I will be there for you, dressed entirely in saran wrap and diamonds. Stuck in rehab for a few weeks? Never fear, I'll appear in photo ops with orphans for your favorite charity functions.
Unfortunately, I have an evil twin named Paparazza. She has the same super power as I do, but she is armed with a selfie stick and insatiable greed. She is responsible for the great PR disaster stories: wardrobe malfunctions and public meltdowns, DWI arrests, and pretty much every Kim and Kanye appearance on record. A great reckoning is coming. Keep your eye on PEOPLE magazine…
Leah's Sourcebooks Fire debut YOUR VOICE IS ALL I HEAR releases in September. Learn more about this book at http://www.leahscheier.com/.
***
Zoraida Cordova, author of THE VAST AND BRUTAL SEA
If I had a superpower it would be the ability to change into a mermaid... I'm sure this is not surprising! But I would make it my mission to discover the world's ocean. I would bring back all of my findings, and search out lost civilizations. Like Indiana Jones meets Ariel.
Pick up Zoriaida's YA novel THE VAST AND BRUTAL SEA available in trade paperback now. And contact the author on Facebook here https://www.facebook.com/CordovaBooks.
GIVEAWAY!
a Rafflecopter giveaway