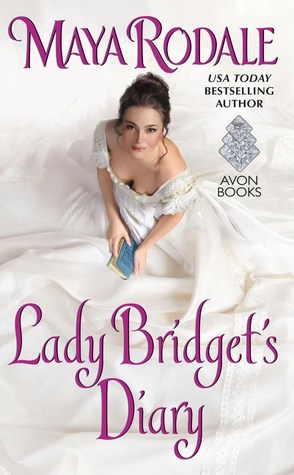 Title/Author:
Lady Bridget's Diary (Cavendish #1) by Maya Rodale
Publisher/Date published:
Avon, February 23rd 2016
How I got this book:
received it from the publisher as an egalley, thanks!
Goodreads summary: Lord Darcy is the quintessential Englishman: wealthy, titled, impossibly proper, and horrified that a pack of Americans has inherited one of England's most respected dukedoms. But his manners, his infamous self-restraint, and his better judgment fly out the window when he finds himself with the maddening American girl next door.

Lady Bridget Cavendish has grand — but thwarted — plans to become a Perfect Lady and take the haute ton by storm. In her diary, Bridget records her disastrous attempts to assimilate into London high society, her adoration of the handsome rogue next door, her disdain for the Dreadful Lord Darcy, and some truly scandalous secrets that could ruin them all.

It was loathing at first sight for Lady Bridget and Lord Darcy. But their paths keep crossing... and somehow involve kissing. When Lady Bridget's diary goes missing, both Darcy and Bridget must decide what matters most of all — a sterling reputation or a perfectly imperfect love.
Guys, I have lots of love for Bridget Jones' Diary, especially for the movies, they're is funny and they give me feels and it's just incredibly comforting. And obviously I love that it's loosely based on Pride and Prejudice, which is my all-time favourite novel. So I was majorly excited when I came across Lady Bridget's Diary, I mean, a historical romance version of Bridget Jones? YES PLEASE!
And you guys, I was very much not disappointed! I love when a romance author also brings the funny, cause that usually makes for the best reads and Maya Rodale accomplished that, it wasn't as laugh out loud funny as I've experienced in Tessa Dare's and Julia Quinn's books, but it did make me smile and I like that.
I really liked Bridget. She's a bit clumsy and awkward, but she does try very hard to fit in to society and that's not always the best recipe for great decisions, but I loved her for it anyway. She's trying to make a success of her family coming to England because her brother inherited a dukedom and I loved her loyalty to her sisters and her brother, while also experiencing things that brothers and sisters all over the world know: your sibling know how best to vex you. I liked that she knows what she wants and she's not willing to settle.
Darcy... How can I not love any man with this name and these qualities? I loved seeing him open up, both to himself and to Bridget and I love that he is trying to put his brother first, but it REALLY interferes with what he wants and I was just rooting for him to find a way to fix everything so he and Bridget could be together. He's a genuinely good man and I love how he also values family and goes around in his lordly way and fixes thing. I also loved that he had a fist fight with his brother a la Daniel and Mark in Bridget Jones' Diary, that's one of my favourite scenes in the movies :)
And the chemistry! Bridget and Darcy have amazing chemistry and it's a bit of a slow burn, but then it's BOOM SPARKS YES! And I had many feels and there was lots of rooting for the couple and lots of UGH for the person standing in their way. SO.
Also, I totally loved that there was a Mean Girls reference.
Basically what I'm saying is that I adored Lady Bridget's Diary! It was fun and full of feels and all my favourite things of both Bridget Jones' Diary and P&P! Including a scene in the rain and one in the lake and the fight and just lots of YES.
My rating:
5 stars