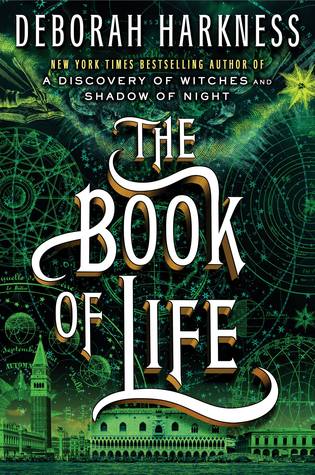 Title/Author:
The Book of Life (All Souls Trilogy #3) by Deborah Harkness
Publisher/Date published:
Viking, July 15th 2014
How I got this book:
received it from the publisher through NetGalley
Buy this book at:
The Book Depository
Goodreads summary: After traveling through time in Shadow of Night, the second book in Deborah Harkness's enchanting series, historian and witch Diana Bishop and vampire scientist Matthew Clairmont return to the present to face new crises and old enemies. At Matthew's ancestral home at Sept-Tours, they reunite with the cast of characters from A Discovery of Witches — with one significant exception. But the real threat to their future has yet to be revealed, and when it is, the search for Ashmole 782 and its missing pages takes on even more urgency. In the trilogy's final volume, Harkness deepens her themes of power and passion, family and caring, past deeds and their present consequences. In ancestral homes and university laboratories, using ancient knowledge and modern science, from the hills of the Auvergne to the palaces of Venice and beyond, the couple at last learn what the witches discovered so many centuries ago.
***WARNING: POSSIBLE SPOILERS FOR FIRST TWO BOOKS IN THE SERIES***
So I was one of those people who was not so patiently waiting for The Book of Life. I very much enjoyed the first two books in the series and was like OMG FINALLY I WILL KNOW THE SECRETS IN THE BOOK OF LIFE. I'm not very good with not knowing things.
I have to confess that I had forgotten probably a lot of details from Shadow of Night, because sometimes I felt myself wondering about things that were going that I felt that I should know. Mostly because these are big ass books. And because it has been two years. And also because sometimes I just forget things. But that didn't make me enjoy the writing any less, and I have to say that I could just slide back into this world even if I didn't have all the information I should have. Deborah Harkness just knows how to weave a story, like Diana knows how to weave a spell, and I was (to stay on topic) enchanted. It's a dreamworld and I wish I could live among these people and call them family. Even if I'm still not fully sold on Matthew and his overprotectiveness, but that's the 21st century independent woman in me speaking.
I loved seeing Diana grow throughout The Book of Life and this series as a whole. She learns a lot about herself and her powers and is truly a good person, and courageous and just plain awesome with magic. I loved seeing her go all mama bear, just as I did in Shadow of Night when she became a mom to Annie and Jack. And let me just say that her and Matthew's children are VERY interesting. VERY interesting. I wish I could study them.
But while I really like Diana, I think the characters who have stolen my heart must be Gallowglass, Jack and even Ysabeau with her fierceness. I just want to hug them and they bring comic relief and just a whole lot of love for these wonderful people. And I also found a character to truly despise: Benjamin. When you meet him, you'll understand what I'm talking about. He is awful.
I loved seeing it all come together, though at times I was kinda wondering if maybe Diana wasn't a bit too good to be true, BUT I could put that aside and just enjoy the book, so it was all good. And I do very much like the answers I got, I just wish there would have been even more and maybe there's room for a sequel? Pretty please? There are still some things left to discover in this world I think.
The Book of Life was a satisfying conclusion to the trilogy and I'm still very glad I picked up that copy of A Discovery of Witches at the book store and these characters and this story came into my life.
My rating:
4,5 stars