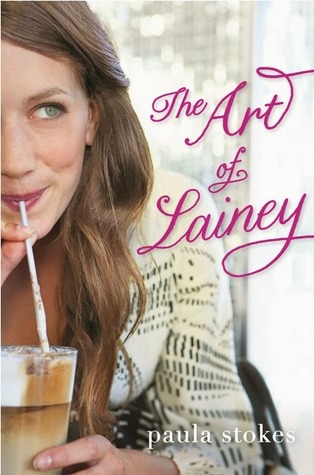 Title/Author:
The Art of Lainey by Paula Stokes
Publisher/Date published:
HarperTeen, May 20th 2014
How I got this book:
received it from the publisher as an egalley
Buy this book at:
The Book Depository
Goodreads summary: Soccer star Lainey Mitchell is gearing up to spend an epic summer with her amazing boyfriend, Jason, when he suddenly breaks up with her — no reasons, no warning, and in public no less! Lainey is more than crushed, but with help from her friend Bianca, she resolves to do whatever it takes to get Jason back.

And that's when the girls stumble across a copy of The Art of War. With just one glance, they're sure they can use the book to lure Jason back into Lainey's arms. So Lainey channels her inner warlord, recruiting spies to gather intel and persuading her coworker Micah to pose as her new boyfriend to make Jason jealous. After a few "dates", it looks like her plan is going to work! But now her relationship with Micah is starting to feel like more than just a game.

What's a girl to do when what she wants is totally different from what she needs? How do you figure out the person you're meant to be with if you're still figuring out the person you're meant to be?
Guys, I like my fluff and the plot of The Art of Lainey where fake feelings turn into true feeling is one of my favourite plots in romance. I think it's due to all the tension and of them not being sure if the other feels the same way and just a whole lot of confusion and I JUST LOVE IT OK?
So we were off to a good start. Lainey gets dumped by her ass of a boyfriend, who shows his assness by dumping her at her father's cafe, which is just a big NO. And I'm like NOOOOO why would you want him back? But hey, otherwise there'd be no plot, so I'll deal with my incredulity. And HELLO MICAH! :D Micah is awesome. Micah is a good guy with a mohawk. Which is awesome. I love that he wasn't perfect, but he's perfect for Lainey.
I actually thought it was kinda brilliant of Lainey's best friend to suggest using tactis from The Art of War to go about getting Lainey's ex-boyfriend back. I mean, love is a battlefield right? Might as well take it literally. I also really liked that Lainey and her best friend were REALLY best friends and her best friend wasn't just a necessary side character.
And Lainey herself was a truly wonderful main character! I really like this girl! She's popular and plays soccer and I cannot identify with that at all, but I love how fully she gives herself to everything! And how she's not afraid to try new things and get to know who she really is over the summer. So she sometimes says things that she shouldn't or doesn't mean, who hasn't done that. And OMG, how recognizable is the moment when the music turns down at a club and you're just talking about something with a friend nobody else is supposed to hear about??
Basically I loved Paula Stokes' writing and this is definitely my kind of adorable contemporary! I stayed up way past my bedtime to finish The Art of Lainey and I'd do it again in a heartbeat! Also: I'm now doubly excited to read
Venom
as it's also by Paula Stokes, only under the penname Fiona Paul :)
My rating: 5 stars