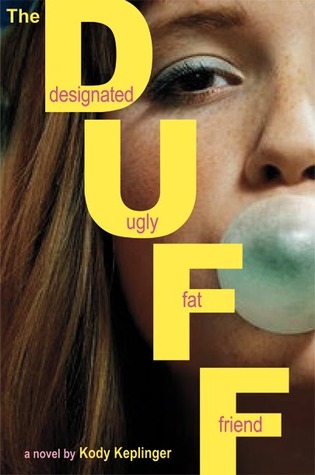 Title/Author:
The DUFF by Kody Keplinger
Publisher/Date published:
Little Brown/Poppy, January 1st 2010
How I got this book:
bought it cause people *stares* kept book pushing it
Buy this book at:
The Book Depository
Goodreads summary: Seventeen-year-old Bianca Piper is cynical and loyal, and she doesn't think she's the prettiest of her friends by a long shot. She's also way too smart to fall for the charms of man-slut and slimy school hottie Wesley Rush. In fact, Bianca hates him. And when he nicknames her "the Duff," she throws her Coke in his face.

But things aren't so great at home right now, and Bianca is desperate for a distraction. She ends up kissing Wesley. Worse, she likes it. Eager for escape, Bianca throws herself into a closeted enemies-with-benefits relationship with him.
Until it all goes horribly awry. It turns out Wesley isn't such a bad listener, and his life is pretty screwed up, too. Suddenly Bianca realizes with absolute horror that she's falling for the guy she thought she hated more than anyone.
So I'm way, WAY late to the party, but at least I joined in, right? Right. So now you can all stop staring me down until I read this, because I did it ok and you were ALL RIGHT so I'll totally let you do an I-told-you-so dance. Go ahead.
Ok, now stop.
Let me just say that I have absolutely no idea why I waited this long to read The DUFF. I mean, love-to-hate romances are MY THING, as are fake relationships and marriages of convenience and pirates and... Wait, I was talking about The DUFF. Let's get back to it.
So The DUFF brought ALL THE FEELINGS!! It was such an emotional rollercoaster and afterwards I was like WHAT AM I GOING TO DO WITH MY LIFE NOW??? So while that might be a little overdramatic (I know), I was really at a loss of what to do with the rest of my day. I mean, all these intense emotions had nowhere to go except for this review, so excuse me while I flail all over it.
At first I was like OMG Wesley is such a douche!! But then things and Wesley got better and I saw him putting up this douchebag front and being a totally swoonworthy boy and just FEELINGS! SO MANY FEELINGS! I mean, I experienced this hate-to-love thing right along with Bianca and that's what I want from a good romance-y book.
But The DUFF is SO much more than romance. It's Bianca, who is beautifully flawed and has a less than ideal family situation and I just wanted to hug her and tell her that she didn't have to be this strong all the time and that it was ok to trust in someone else. I could totally identify with her looking for ANY way to let off some steam and while it may not have been the best idea ever to go around jumping in bed with a boy who's rumored to have extracurricular activities like this with LOTS of girls, it wasn't the most self-destructive thing she could have done. And I get it. It's a very good way to distract yourself from the problems in your life.
I loved Bianca's friends, they were true friends and I just wished that Bianca had seen how much they loved her and genuinely wanted to know what was going on with her. And I could so relate to Bianca's feeling of being the DUFF, I mean, most people have probably felt like that at some point in their life, right? But really, I've felt like the ugly duckling in a group of friends and it's not a nice feeling. It makes you insecure and question things you'd never question otherwise and OMG it's just not ok. I loved that in the end, Bianca and her friends talked about it and just epic friendship moment, ok?
There was just so much to love about The DUFF, I mean, THE LETTER! OMG, I died. Seriously. I just had all the feeling and not just boy-induced feelings, but friendship feelings and I JUST LOVED IT OK?
So now the movie needs to get released here in Holland, cause MY BODY IS READY!
Also, excuse me while I go plot which Kody Keplinger book I'm going to buy and read next.
My rating:
5 stars