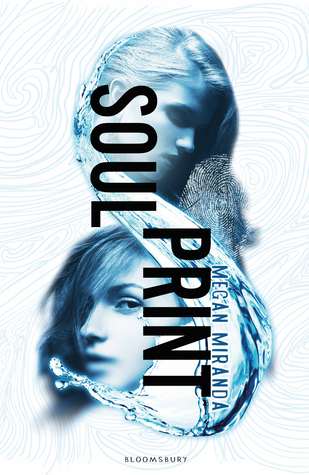 Title/Author:
Soulprint by Megan Miranda
Publisher/Date published:
Bloomsbury Publishing Plc, February 1st 2015
How I got this book:
received it from the publisher through NetGalley
Buy this book at:
The Book Depository
Goodreads summary: Alina Chase has spent her entire life in confinement. With the science of soul-printing now a reality, she is 'protected' for her own safety - and the safety of others - because her soul has done terrible things... or so she's told. When Alina finally breaks out of prison, helped by a group of people with unclear motives, she begins to uncover clues left by her past life that only she can decipher. And she may not be as innocent as she once believed. Can Alina change her future, or is she fated to repeat her past and face the consequences?
There is just something about Megan Miranda's writing that resonates with me. It's always a bit dark and gritty and she doesn't shy away from hard subjects and it really just works for me. I'm right there in the moment with the characters and just feel part of the story. And I love it!
And Soulprint was not an exception to this! I really got sucked into this world with all of its scariness that is souls transferring to another person upon death and science having found a way to actually identify your soul and thus being able to know who you were in your past lives. And to me that's REALLY scary. I mean, wow, something like that HAS to have major consequences, like Megan Miranda shows us in Soulprint, you could be judged for the actions of your soul's past lives. So much for innocent until proven guilty, right?
I really liked Alina. She's smart and brave and flawed and beautiful because of her flaws and it was easy to relate to her in her insecurities and her tentative forming of a friendship with the people who break her out of the island she's been kept in since childhood. I could understand how she was trying so hard to not be anything like June, her soul's previous identity. I mean, people are judging her for June's actions, so why would you want to give them another reason to think you're like her? I also loved how in the end she embraced her identity and learned to work with it and accept June.
The two teens who broke Alina out, Casey and Cameron were SO my kind of people! They're kind and smart and know some slightly less than legal tricks and I loved the relationship between this brother and sister! They're really willing to do everything for each other and are a true family. Casey's computer hacking skills are pretty badass, but I'm particularly drawn to Cameron and his awesomeness. I loved the easy chemistry between him and Alina and how he just seems to get her and doesn't judge her and just FEELINGS OK?
This whole thing with June and what she's done and just all of it is a WHOLE LOT more complicated than it seems at first and OMG the intrigue! I totally loved it! Every time you think you know what went down, there's just this little thing niggling at the back of your mind that it doesn't quite add up and then there's a big reveal and I was like MIND IS BLOWN. It was amazing. And I loved how Alina doesn't go for the easy choices and the ending left me with a smile on my face, so yeah. I pretty much just loved this!
If you haven't read Megan Miranda's books yet, I'm saying you should get a start on checking them out! Fracture and Vengeance are a lot darker than Soulprint is, so this might be a little more accessible, but they're all amazing, so just go forth and read any of them!
My rating:
5 stars