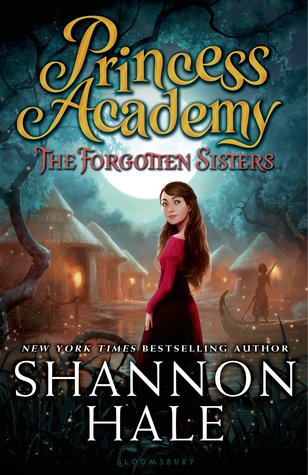 Title/Author:
The Forgotten Sisters (Princess Academy #3) by Shannon Hale
Publisher/Date published:
Bloomsbury USA Children's, March 3rd 2015
How I got this book:
received it from the publisher through NetGalley
Buy this book at:
The Book Depository
Goodreads summary: After a year at the king's palace, Miri has learned all about being a proper princess. But the tables turn when the student must become the teacher!

Instead of returning to her beloved Mount Eskel, Miri is ordered to journey to a distant swamp and start a princess academy for three sisters, cousins of the royal family. Unfortunately, Astrid, Felissa, and Sus are more interested in hunting and fishing than becoming princesses.

As Miri spends more time with the sisters, she realizes the king and queen's interest in them hides a long-buried secret. She must rely on her own strength and intelligence to unravel the mystery, protect the girls, complete her assignment, and finally make her way home.

Fans of Shannon Hale won't want to miss this gorgeously woven return to this best-selling, award-winning series.
***POSSIBLE SPOILERS FOR FIRST TWO BOOKS IN THE SERIES***
Guys, this series is wonderful. I love the world Shannon Hale has created and Miri is an awesome heroine, funny and witty and intelligent and just a girl I can rally behind.
I really enjoyed reconnecting with this world and all the characters in The Forgotten Sisters and meeting new friends! Cause that's how Shannon Hale's writing makes me feel, like I'm meeting new friends and reconnecting with old ones. It took us some time to get used to each other again, but after that we had a lot of fun. I thought the politics in the first two books were not so easy to navigate, but The Forgotten Sisters adds another layer of intricate plotting and secrets and just a whole lot of WHAT?? when Miri and I discovered what it was exactly that was going on.
I like that we got to explore another part of the world Miri lives in, while holding true to the people and places we've been introduced to before. And like I mentioned before, Miri is pretty awesome. I really liked the bantery relationship she has with Peder. Those two truly care about each other and I think they make a great couple. It's filled with mutual respect and love and it's a great example.
I also really appreciate how much girlpower there is in this series, without being all rah-rah boys are inferior. I mean, Shannon Hale shows how boys and girls can work together and how everyone has their own set of talents, regardless of gender. It's a pretty awesome message to send in my opinion.
Shannon Hale has a real gift for storytelling and I definitely enjoyed myself while reading The Forgotten Sisters, it's sweet and chamring and funny and I would just really recommend this series as whole!
My rating:
4 stars