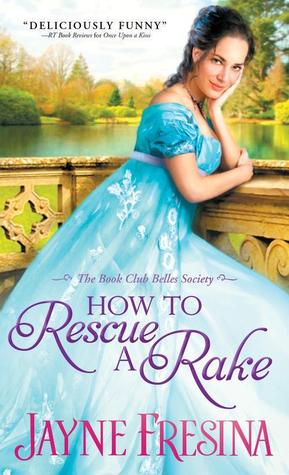 Title/Author:
How To Rescue a Rake (Book Club Belles Society #3) by Jayne Fresina
Publisher/Date published:
Sourcebooks Casablanca, January 5th 2016
How I got this book:
received it from the publisher through NetGalley, thanks!
Goodreads summary: HOW TO RESCUE A RAKE:

Reject his marriage proposal
Nathaniel Sherringham has returned to Hawcombe Prior a changed man. Gone is the reckless rake who went out on a limb to propose to Diana Makepiece three years ago. Now Nate's mysterious new wealth has the town's rumor mill spinning. To stir things up (and get Diana's attention), Nate boldly announces his plans to marry "any suitable girl" under the age of 25.

Run away
Diana, now 27 and still single, is acutely aware of Nate's return. When her mother suggests a trip to visit a cousin in Bath, Diana leaps at the chance to escape the heartbreak and regret she can't help but feel in Nate's presence... and avoid his irritating charade to find a bride.

But for Nate, Diana has always been the one. He might just have to follow her to Bath and once again lay his heart on the line to win her attention - and her heart.
It is no secret that I have lots of love for Jane Austen and will forever give retellings of her wonderful stories a chance. But I had not realised this would be a sort of retelling and it was a very pleasant surprise!
I really liked Diana, she's smart and she knows what she wants and while I would sometimes like her to be a little less sensible, cause it doesn't really lead to kissing usually, I did like her having a decent head on her shoulders. The thing I didn't like so much was that she was so easily influenced by other people into doing the 'proper' thing, like starting to wear a lace cap and everything, I mean, can you say horrendous? I did really appreciate seeing her grow and become her own person. It's kinda sad that she had to leave home and mostly her mother to accomplish this, but she did it and it was wonderful to see!
And Nate, Nate is my kind of hero, he's very alpha male, and he's also very loyal and caring and just YES. I loved how he would try and look foolish just to get Diana to smile and how he encourages her to share more of herself with the world because he likes her and watns to hear what she has to say.
And together these two were just *HAPPY SIGH*. I loved it. There were sparks and I had tears in my eyes at times and it was basically Jane Austen but with more kissing! Also, for a historical romance, How To Rescue a Rake was actually pretty clean up until the last couple of chapters. But there are LOOKS and banter and TENSION and it was just so, SO good!
My rating:
5 stars