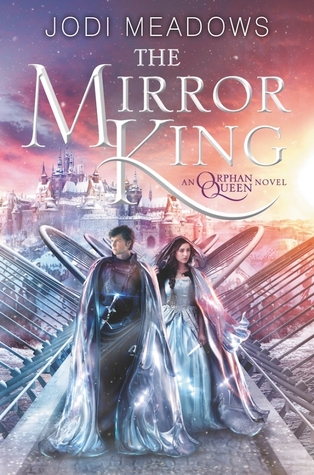 Title/Author:
The Mirror King (The Orphan Queen #2) by Jodi Meadows
Publisher/Date published:
Katherine Tegen Books, April 5th 2016
How I got this book:
received it from the publisher as an egalley, thanks!
Goodreads summary: Wilhelmina has a hundred enemies.

HER FRIENDS HAVE TURNED. After her identity is revealed during the Inundation, Princess Wilhelmina is kept prisoner by the Indigo Kingdom, with the Ospreys lost somewhere in the devastated city. When the Ospreys' leader emerges at the worst possible moment, leaving Wil's biggest ally on his deathbed, she must become Black Knife to set things right.

HER MAGIC IS UNCONTROLLABLE. Wil's power is to animate, not to give true life, but in the wraithland she commanded a cloud of wraith mist to save herself, and later ordered it solid. Now there is a living boy made of wraith — destructive and deadly, and willing to do anything for her.

HER HEART IS TORN. Though she's ready for her crown, declaring herself queen means war. Caught between what she wants and what is right, Wilhelmina realizes the throne might not even matter. Everyone thought the wraith was years off, but already it's destroying Indigo Kingdom villages. If she can't protect both kingdoms, soon there won't be a land to rule.
***WARNING: POSSIBLE SPOILERS FOR BOOK ONE***
After the cliffhanger ending of The Orphan Queen, I'm SO happy that I already had the egalley for this one so I didn't have to wait in agony to find out what would happen next!
The Mirror King picks up right where we left everyone in The Orphan Queen and I just loved it! We dove right back into the epicness that is this world and Jodi Meadows' writing and also all of these characters and especially WIL and TOBIAH and JAMES. And also Melanie, but we don't see as much of her for the first part cause she went off with Patrick. Who is hateful and will not be mentioned much hereafter because of said hatefulness.
I loved Wil even more in this one, I felt for her in all of her doubts and insecurities and in the starcrossed love she's feeling for Tobiah. I mean, wow, these two have basically everything going against them. One of which happens in this book and was one of the most shocking things EVER. OMG, I still can't believe that happened! She was so strong through it all and really grew as a person and I love that even though everyone knows she's the heir to the throne of Aecor, she's not going to stop kicking ass.
The wraith is still creepy and I'm still not sure that I get it entirely, but in The Mirror King, they're looking for a way to stop it. Or at least keep it at bay. I loved seeing more of the wraith boy and the thing I also very much liked about the magic system is that Wil can animate things, but while they're animated, they keep costing her energy, so it's not just her powering them up and then the things just going off on their own, but it's actually a strain on her and therefore her magic is not limitless.
There are some hints about things that are explained in The Mirror King, but I was SO surprised at at least one of the big reveals! I really don't want to give anything away, but I had definitely not picked up on it, and it was both sad and awesome and plays a big part in the final scenes. Which also gave me some sads, because of reasons. I've gotten so attached to this world and these characters and there are only two books and I wished I could have just spent some more time with everyone and see how their lives turn out after the events in The Mirror King! It's what makes me realise how much I love a book, when I keep wondering what will happen after I've turned the last page.
I'm in awe of Jodi Meadows' storytelling and I really hope she'll be gifting us with more stories!
My rating:
5 stars