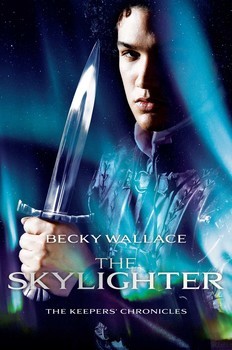 Title/Author:
The Skylighter (The Keepers' Chronicles) by Becky Wallace
Publisher/Date published:
Margaret K. McElderry Books, March 22nd 2016
How I got this book:
received it from the publisher as an egalley, thanks! And also bought myself a shiny finished copy.
Goodreads summary: As the last of the royal line, Johanna is the only person who can heal a magical breach in the wall that separates her kingdom of Santarem from the land of the Keepers, legendary men and women who wield elemental magic. The barrier protects Santarem from those Keepers who might try to take power over mere humans... Keepers who are determined to stop Johanna and seize the wall's power for themselves.

And they're not the only ones. As the duchys of Santarem descend into war over the throne, Johanna relies more than ever on the advice of her handsome companion, Lord Rafael DeSilva. But Rafi is a duke too, and his people come first. As their friendship progresses into the beginnings of a tender relationship, Johanna must wonder: is Rafi looking out for her happiness, or does he want the throne for himself?

With war on the horizon, Johanna and Rafi dodge treacherous dukes and Keeper assassins as they race to through the countryside, determined to strengthen the wall before it's too late... even if it means sacrificing their happiness for the sake of their world.
***WARNING: POSSIBLE SPOILERS FOR FIRST BOOK IN THE SERIES***
So I ADORED The Storyspinner and while I didn't love The Skylighter with the same passion, I did very much enjoy it and thought it was a solid ending to this series.
In The Skylighter, we continue the journey that Rafi and Johanna started to get to the wall and restore the power, they team up with Jacaré and there are several things going on all over Santarem, so my attention as a reader was a bit divided. There's a lot of switching back and forth between different points of view and while I liked not only seeing things from one side, it was at times a little too much for me, because some of the chapters were pretty short and I just wanted to get sucked into this person's side of the story and then it would switch already. But we did get to see what everyone was up to, and even with that, Becky Wallace still managed to surprise me with some of the twists.
While The Storyspinner was filled with my ship being shippy, in The Skyligher Rafi and Johanna are at a weird place and while I was still so much rooting for them to be together, it was slightly less swoony. They keep pulling together, pushing away and it's just a rollercoaster. I do very much love them together though, they're both awesome and manage to draw the best out of each other. And I also liked that they're doing everything they can to make sure they can actually be together, BUT there's a limit to what they will do to accomplish this, there are things that are more important.
I loved getting a little bit more of Johanna's parents' backstory and would have liked to see even more of this and to get a little bit more background for the Keeper's powers, cause I feel like there's a whole lot more left to explore in this world, so I'm kinda sad that it's only two books. But I've come across a Q&A that says that there might be more books set in Santarem, SO YAY FOR THAT, PLEASE WRITE MORE!
One thing that kinda bugged me:
[Show]
[Hide]
There's all this mystery about the collars and how exactly they work and what's it's about the beryllium that's making them able to control people through them and it's never fully revealed what this is about and there's all this about not being able to get it off and then random people can just take them off someone else? I mean huh?? Did I miss something here?
But overall, I thought this was such a really incredible series that I very much enjoyed and would love to read back to back at some point, just to get fully in the feels without having to try to remember the details from the previous book because they're still fresh. Rafi and Johanna have a special place in my heart and I'd love to see what happens AFTER the events in The Skylighter, so please Becky Wallace, write me some more books?
My rating:
4,5 stars