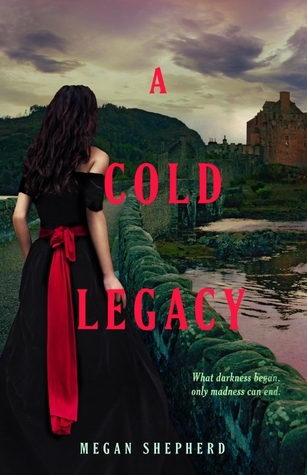 Title/Author:
A Cold Legacy (The Madman's Daughter #3) by Megan Shepherd
Publisher/Date published:
Balzer + Bray, January 27th 2015
How I got this book:
received it from the publisher as an egalley
Buy this book at:
The Book Depository
Goodreads summary: After killing the men who tried to steal her father's research, Juliet — along with Montgomery, Lucy, Balthazar, and a deathly ill Edward — has escaped to a remote estate on the Scottish moors. Owned by the enigmatic Elizabeth von Stein, the mansion is full of mysteries and unexplained oddities: dead bodies in the basement, secret passages, and fortune-tellers who seem to know Juliet's secrets. Though it appears to be a safe haven, Juliet fears new dangers may be present within the manor's own walls.

Then Juliet uncovers the truth about the manor's long history of scientific experimentation — and her own intended role in it — forcing her to determine where the line falls between right and wrong, life and death, magic and science, and promises and secrets. And she must decide if she'll follow her father's dark footsteps or her mother's tragic ones, or whether she'll make her own.
***WARNING: POSSIBLE SPOILERS FOR FIRST 2 BOOKS IN THE SERIES***
So I was a bit hesitant about starting A Cold Legacy, cause I didn't really enjoy Her Dark Curiosity all that much, but I'm happy to say that this was definitely a WHOLE lot better! I mean, seriously, while I didn't feel the urge to keep on reading with Her Dark Curiosity, A Cold Legacy definitely brought that 'don't-put-me-down' feeling that I love while reading!
So Her Dark Curiosity ended with the gang running away from London so as not to get caught because they'd murdered 3 influential men, and Edward had poisoned himself because he wanted to kill the Beast and took a whole load of cyanide, which has no antidote, so it should have killed him in seconds, right? RIGHT? But as there are a whole lot of medical miracles in this series, it doesn't and everyone arrives at Elizabeth's mansion in the middle of nowhere. And there they meet a whole new set of interesting characters and remember this is based on Frankenstein, so there's something brought back from the dead walking around and OMG IT IS SO CREEPY!! Seriously, I don't want to give away just who/what is the undead object, but I WAS FREAKING OUT BECAUSE HOLY WOW I CANNOT HANDLE THE CREEPINESS OF IT! There was this sense of dread and doom and just inevitable disaster and I LOVED it!
And seriously, I LOVE that Juliet is a scientist and with Elizabeth we have another no-nonsense female scientist and just YES! One thing that bugged me was that there were some inconsistencies with what I know about science, mainly that dead people don't bleed. Seriously, they just don't. Because if blood isn't being pumped around anymore, it stops flowing and when blood stops flowing, it clots. So if you've been dead for a while, you really just don't bleed anymore and it bugged me that they did in this book. Also, there's no point in giving a dead person an injection with medicine, cause again with the no blood flowing, it's not going anywhere and thus not doing anything. But that's just the medical professional in me talking and I felt that this was a mistake that could have easily been caught and edited out.
But aside from this detail, I was REALLY enjoying A Cold Legacy! I loved how there kept being twists and turns and things got even more complicated and Juliet really needed to look into her soul to decide what direction she was going to go with all of it and there was such character growth and she was just a lot easier to relate to than in Her Dark Curiosity. She was treading a fine line between scientist and mad scientist and it was an egde of your seat experience to watch.
So I obviously don't want to spoil anything about the end, but I'm happy with it. It gave me closure and it fit the series as a whole and I just couldn't put it down till it was finished, it was SO good!
My rating:
4,5 stars